Bhutanese working in Kuwait and their stories
Phub Gyem, Kuwait

Mar 19, 2018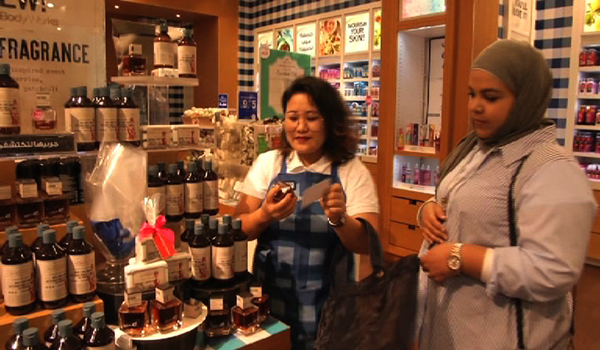 Wearing a radiant smile on her face, 28-year-old Tshering Dema helps a female customer looking to buy perfume in a shopping mall in Kuwait. Tshering Dema is one of the 385 Bhutanese living and working in Kuwait.
She was among the first batch of Bhutanese who left home to work in Kuwait. Tshering Dema works with Alshaya, a Kuwaiti owned company that franchises diverse brands of goods.
She started as a Sales Associate and has now made it to the post of an Assistant Store Manager. "It's better than staying in Bhutan with no work," Tshering Dema shared.
"It's good here. It's really hard to get a job in Bhutan, but here getting employed is not so hard. Every year, you get vacation and you get to go home and enjoy with your family."
She has no plans of leaving Kuwait anytime soon. "I want to stay for a few more years. The career opportunities are good here."
In the recent years, nearly 5,000 young Bhutanese had traveled to different countries under the labour ministry's overseas employment scheme. The scheme has been a controversial one at times with reports, some confirmed but others unconfirmed, of Bhutanese workers subjected to abuse by their employers.
In Kuwait though, the Bhutanese workers that BBS team caught up with were found to be leading a fairly good life.
The only challenge, some of them shared, is overcoming homesickness. Some find it a little difficult to handle work pressure. Otherwise, they seem to be doing quite well.
Tshering Yangzom, also 28-years-old, is another Bhutanese working at the same shopping mall. Besides language barrier and a bit of work pressure, she shared there are no other major challenges.
Tshering Yangzom is a graduate of College of Science and Technology (CST). She had failed to find a job in Bhutan and this is what landed her in the oil rich country Kuwait.
"To serve our country doesn't always mean we have to work in our country. We can work in another country and do that," Tshering Dema said. "The opportunities are many here. If you are good, you get trained for higher positions, but we do miss our home and food."
BBS spoke to several other Bhutanese working at the same shopping mall to find out what it is like to live and work in Kuwait.
For Tshering Penden, who has been in Kuwait for two years now, it was hard initially. "I didn't know how to speak Arabic," he said. "Nor did I know how to deal with the people here. It was really challenging in the beginning. You have to have strong perseverance to keep going," he added.
Tshering Penden, who is also a university graduate, was recently promoted to the post of a Shift Supervisor.
Thinley Gyeltshen, another Bhutanese, said all is well as of now. "Things are on track," he said. "We are also getting to learn so many good things, which can be implemented in our country."
Most of them shared they save upto 120 Kuwaiti dinar every month on an average, which is roughly Nu 26,000.
Their stories, however, do not imply everyone is doing great. It has to be noted that due to time constraint, speaking to more number of Bhutanese was not feasible.
Subasha Hingming has a message for fellow Bhutanese aspiring to work overseas.  He works at Alshaya Head Office in Kuwait after the company hired him as a trainer in 2015.
"I have heard few stories where Bhutanese people who have come through agencies that are not registered with the labor ministry. There were instances where their passports were seized by the sponsors. So, it is always better to come through the labor ministry."
Close to 1,000 Bhutanese work for the Alshaya in the Middle East countries, such as Kuwait, Qatar, the United Arab Emirates and Bahrain. The figure excludes Bhutanese employed in the Middle East by private agencies.
Kuwait's local population is a little over one million. The 385 Bhutanese in Kuwait are among the gulf country's three million plus foreign residents who hail from 120 different countries.