130 candidates nominated to contest for NC elections
Sherub Dorji, Thimphu

Mar 18, 2018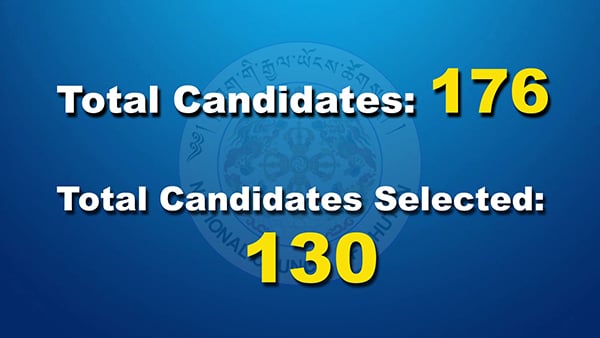 Three weeks after the commencement of Gewog Dhamngoi Zomdu, 130 candidates are now confirmed to contest the National Council elections on April 20.

The Dhamngoi Zomdu completed, on Friday, at Trong Gewog in Zhemgang.
The 205 Gewog and 20 Dzongkhag Thromde have finally nominated their candidates.
With 13 candidates, Monggar will field the highest number of candidates on the April 20 election date followed by Tsirang, who nominated 12 candidates from its 13 Gewogs.
On the other hand, Bumthang will see only two candidates contesting for a National Council seat. Other Dzongkhag with less candidates are Gasa and Trongsa with three each.
The number of female aspirants was a disappointment leading up to the Dhamngoi Zomdu. Among the eight who contested, six made it through to the next round. Ninety five Gewog and Dzongkhag Thromde did not have any nominations.
With 130 candidates confirmed, state funding to cover the campaigns will cost the Election Commission of Bhutan close to Nu 20 million.
Next up, the nominated candidates will participate in LIVE public debates conducted by the Bhutan Broadcasting Service in collaboration with the Election Commission of Bhutan. It starts with Lhuentse Dzongkhag, next week.