Trevor Morgan: New Head Coach of National Football Team
Passang Dorji, Thimphu

Mar 1, 2018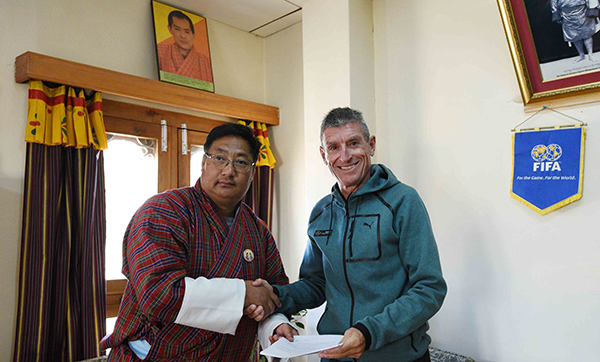 Following the exit of German Coach Torsten Frank Spittler, the Bhutan Football Federation or BFF, has named Trevor Morgan as the new Head Coach.
Trevor Morgan, the British Professional Athlete was the given the responsibility of Head Coach of National Football team, yesterday. Born in London, football has always been a major part of Trevor's life, which includes a professional playing career from 1980 to 1994. During his 14 year career, he played over 600 league and Cup games.
Prior to taking over as the Head Coach of Bhutan, Trevor has managed several eminent clubs in England, Australia, India, Singapore, Malaysia, and Hong Kong.
Having forged a strong reputation in the Indian Premier League, Trevor is now looking forward to gain the same reputation in Bhutan.  Trevor told BBS News: "It is a great honor to be the national team manager. And it is something I could have only dreamed about when I was growing up. A footballer to be the national team football manager, It is a great honor."
The new Head Coach is now looking forward to win the next game against the Maldives. "The first thing is we are just preparing for the last game of the qualifying group way to the Maldives. And it is a game that we want to win. Absolutely, there is no doubt and we are not going to prepare for a draw. Every game we play, we will do our best to win," added Trevor.
He met with the national squad yesterday. He will be looking after the national squad for  a period of two years on contract.