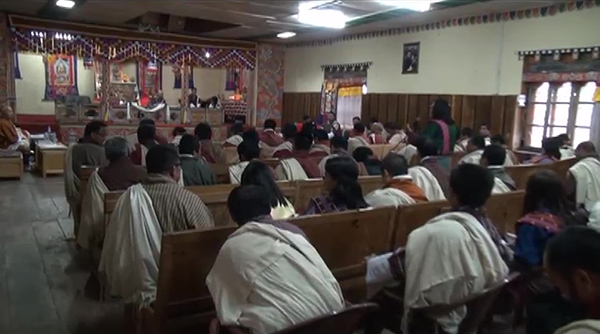 Tsakaling Gewog proposed that a fine of Nu 4,500 be imposed on every gungtong or vacant household at the recent Dzongkhag Tshogdu (DT).
Tsakaling Mangmi Pema Tenzin said the proposal was discussed thoroughly with the people in his gewog and also in the Gewog Tshogde. "The Gewog Tshogde resolved to collect a fine of Nu 4,500 from each gungtong and failure to pay would result in power and water supplies being cut," Mangmi Pema Tenzin said.
"We are submitting Gewog Tshogde resolution to the Dzongkhag Tshogdu for endorsement."
Chhaling Gup Tashi Dendup and DT Chairperson Karma S Wangchuk supported the proposal. "Chhaling Gewog has many Gungtong related problems," Chhaling Gup said.
"So, during the Gewog Tshogdu, we decided to come up with stringent rules and regulations for people who leave their houses empty and submitted it to Dzongkhag Tshogdu for further discussion and endorsement," the Gup added.
DT Chairperson Karma S Wangchuk said those who have stayed back complain a lot. "They say they are the ones who contribute labor for constructing irrigation channels and other community works and the gungtongs get to reap benefits without having contributed anything."
The DT Chairperson said the fine will be implemented soon in Tsakaling Gewog as the Gewog Tshogde has endorsed it.
Following an extensive deliberation on gungtong and its related issues, the DT members agreed to endorse it as a resolution. However, the resolution will be submitted to legislative committee of Dzongkhag Tshogdu for review and will be discussed further in the next Dzongkhag Tshogdu for necessary amendment.
Monggar Dzongkhag has 455 vacant households of which the highest was recorded in Kengkhar with 81  gungtongs.
The National Land Commission Secretariat (NLCS) is also mapping gungtongs in the country to find out the total number of vacant households and cause factors.
The field survey has been completed in four districts. Once complete, this will act as the main baseline data for future studies and policy interventions.