RMA to increase vehicle loan ceiling for electric cars to 50%
Samten Dolkar, Thimphu

Jan 26, 2018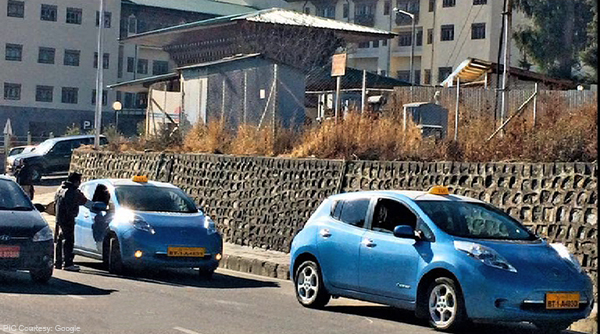 The Royal Monetary Authority (RMA) will increase the vehicle loan ceiling to 50 per cent for the electric taxis. The existing vehicle loan ceiling is 30 per cent. The ceiling has been increased to help replace nearly 4,000 fossil fueled taxis with electric cars in the country.
Bhutan today has 99 electric cars of which only five are taxis. On the other hand there are more than 4,000 taxis running on fossil fuel. Officials from the National Environment Commission (NEC) said, increasing number of fossil fueled cars has huge negative impact on the environment.
"Vehicle emits an emission which has chemical and gaseous in the particulate matter that contributes to the worsening air quality. Vehicles emit air pollutants that are harmful to human health and environment. Increase in number of vehicles would be increase of pollution load into the atmosphere," said an official of NEC, Tshewang Dorji.
To reduce pollution, plans are underway to replace nearly 4000 fossil fueled cars with electric cars under the "Bhutan sustainable low emission urban transport system", project. The main objective is to remain carbon neutral and promote green growth. To supplement the effort, RMA will provide 50 per cent vehicle loan to the existing cab owners to replace their taxis.
"To replace fossil fuel has many benefits. First we cut down on the pollution, second we cut down on the use of fuel that is imported and correspondingly there would also be a benefit from decreased foreign exchange outflow to finance the fuel import also," said  Dasho Karma Penjor, Information and Communications Secretary. "And most importantly it is very much in keeping with the principles of the one of the main pillars which is environment preservation and conservation,"
The government is also working to install additional charging stations. Inadequate charging station is currently one of the drawbacks to promote electric cars in the country.
"Under the project, 12 new charging stations will be installed at the very minimum. We have also requested GNHC secretariat to provide MoIC support for additional 12 to 14 more charging stations. We feel that accessible and reliable charging station is very important also as part of the enabling condition to make it easier for people to decide to switch to electric taxis," added Dasho Karma Penjor.
In addition to 50 per cent loan, the Global Environment Facility or GEF will provide 20 percent subsidy on each electric cars. RMA decided to revise the ceiling for electric cars following a joint request from the MoIC, Gross National Happiness Commission and the UNDP.