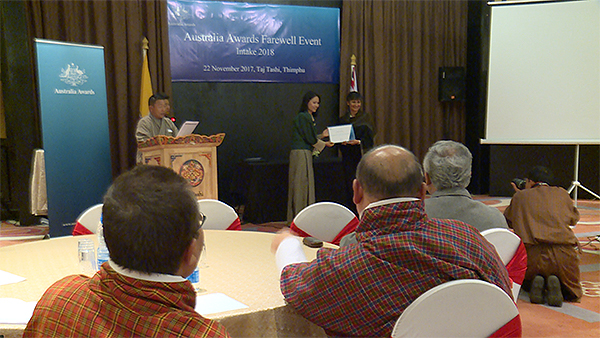 While Bhutan has benefited immensely from its education cooperation with Australia, the Australian Ambassador to Bhutan, Harinder Sidhu, said the partnership has been a two-way exchange.
Just as Bhutanese students get opportunities to study in Australia through the Australian government funded scholarships, the students from Australia too have an opportunity to study in Bhutan under the Australian government's New Colombo Plan.
"There have already been 88 students that have undertaken study programs in Bhutan and 120 more will come in 2018," said Ambassador Sidhu in her key note address at the Bhutan-Australia Education Partnership event held at the Royal University of Bhutan (RUB)  Tuesday evening.
Ambassador Sidhu said Australian students have a lot to learn from Bhutan. "Gross National Happiness (GNH) is a model to other countries, including Australia, to ensure sustainable, holistic development."
Bhutan, she said, is also a role model for transitioning peacefully to democracy and a champion for progressive environmental policy.
Education has been an integral part of the Bhutan-Australia bilateral relationship with Australia supporting Bhutan's human resource development through its scholarship programmes.
Apart from the long standing fully funded scholarships- the Australia Awards and the Endevaour Awards- the Australian government also provides support to the Royal Institute of Management (RIM).
The two countries also have established several other institutional linkages to strengthen Bhutan's TVET sector.
Today, as the two countries celebrate 15 years of diplomatic relations, Australian Ambassador says, while the two countries will explore new areas of cooperation, education and HRD development will continue to be areas of focus.