Winners of Bhutan Enterprise Awards announced
Sonam Choden, Thimphu

Nov 19, 2017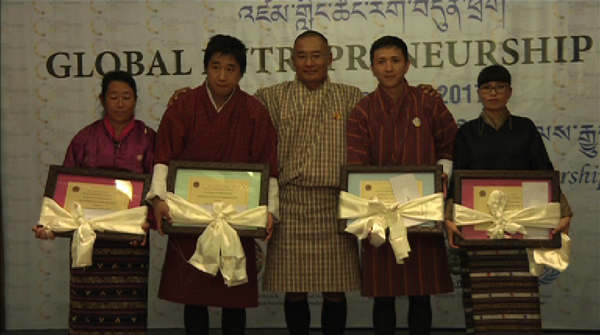 Recognising the contribution of the Cottage and Small Industries to the socio-economic development of the country, the winners of the Bhutan Enterprise Awards were declared at the closing of the Global Entrepreneurship Week in the capital on Friday. The entrepreneurs were selected based on the number of people employed and employment ratio of women and men among others.
Namkhar Degyal Gyaltshen, the owner of Transcend Artisan, won the Award in Cottage-Scale Entrepreneur category while Yeshi Jatsho, who started Gomphukora Water Plant, was declared as the Best Rural Entrepreneur. In the Women Entrepreneur Award category, Chandrika Tamang, the founder of the clothing brand CDK, won the title. The Best Small Scale Entrepreneur Award was presented to Rikesh Gurung, the founder of Green Road business. The awardees received cash prizes as well. The economic affairs ministry instituted the Bhutan Enterprise Awards in 2013.
At the event, the Loden Foundation also presented its awards and certificates to four individuals.
Pema Singye was declared the Best Student Entrepreneur. The Best National and International Mentor Award went to Pema Wangchuk and William Tacon respectively.  Kinley Dema bagged the Best Loden Entrepreneur Award. The winners were given cash prizes with the award.
The Foundation also declared 12 best aspiring entrepreneurs who will receive interest and collateral free loans to start their businesses. The initiative is to create awareness on self employment and recognize the role of entrepreneurship in the society.