Law enforcement officials trained to investigate anti-money laundering cases
Samten Dolkar, Thimphu

Nov 14, 2017
"Money laundering," is an integral part of financial activities, especially bribery and embezzlement. However, it is a challenge for Anti-Corruption Commission (ACC) officials and other relevant stakeholders to do anti-money laundering investigations, which means following the trail of illegal money.
Therefore, to build their knowledge on financial investigation and assets recovery, ACC in collaboration with Basel Institute on Governance based in Switzerland are training 17 officials from law enforcing agencies. An official from Basel Institute on Governance, Phyllis Atkinson is one of the three trainers. She believes people involved in illicit money laundering are much smarter than those investigating the cases. Even participants pointed out that shortage of skilled investigators is one of the major challenges to uncover money laundering and other malpractices.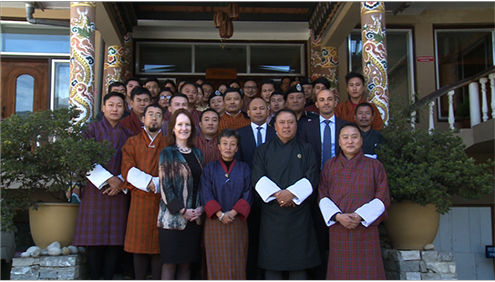 "What we do as investigators is we go after the criminals because we want to put him in jail but the whole idea is when he comes out of jail, probably get a number of years off and he still enjoys the proceeds of his illegal activity. So you want to prevent that from happening," said Phyllis Atkinson. "We want to build a strategy into your investigation where the criminals are jailed and also the assets or money is recovered."
From finding source of black money to recovering illegal assets, participants will be trained to follow the trail that leads to money laundering which ultimately helps in keeping corruption at bay.
"Although Bhutan is perceived to be relatively lacking in corruption, that doesn't mean you can sit back on your laurels and be complacent and in the last three years, we have seen enormous and significant strides in right direction to build the capacity, to make sure corruption does not continue to breed and get worst," added the trainer Phyllis Atkinson.
According to the Transparency International Corruption Perception Index of 2017, Bhutan ranked 27th among 176 countries last year.