Queen Mother highlights youth, health & social issues
Komal Kharka, Punakha

Nov 14, 2017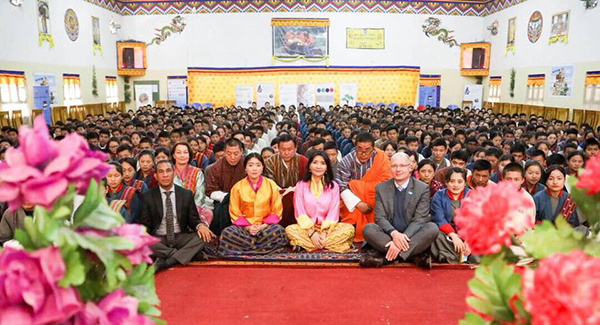 Her Majesty the Queen Mother Sangay Choden Wangchuck met with students and teaching faculty of Punakha Central School yesterday and shared concerns regarding the increasing youth related problems in the country.
Her Majesty said the recent statistics indicate that youth are increasingly at risk of substance abuse, physical and sexual abuse, crime and violence, and other wide range of health issues. The Queen Mother also expressed concerns over increasing trend of suicide cases in the country.
"These statistics are not only alarming but extremely saddening because loss of these lives could have been prevented. I am greatly concerned as these problems are growing in scale every year disrupting lives of young people in our country."
To identify ways and means to tackle youth problems at school levels, Her Majesty met separately with principals and teachers of schools in Punakha.
Meeting with the public, Her Majesty advocated them on similar issues.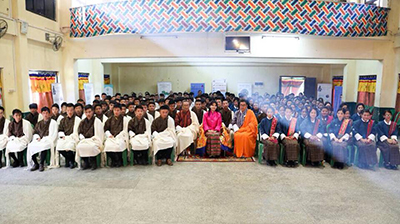 "According to 2016 suicide reports, every year around 92 people commit suicide. Most of them are youth. I would like to urge all the parents to know the problems undergone by your children and discuss their problems," said the Queen Mother.
Her Majesty also visited Technical Training Institute in Khuruthang and urged students there to open up about their problems and discuss with their teachers and parents. Her Majesty the Queen Mother informed the students that interventions are in place to address the problems.
Her Majesty is in Punakha on a three-day high-level advocacy tour. Her Majesty is accompanied by officials from Health Ministry, Respect Educate Nurture and Empower Women (RENEW), Lhak-Sam and National Commission for Women and Children (NCWC).
As part of advocacy tour, the health screening camp was organised for residents in Khuruthang town today. Her Majesty will visit Wangdue Phodrang and Gasa districts soon for similar advocacy programs. Her Majesty the Queen Mother is the goodwill ambassador of UNFPA and patron of RENEW, a non-profit organisation dedicated to women and children empowerment in Bhutan.