Entrepreneurship culture gains ground
Sonam Choden, Thimphu

Nov 13, 2017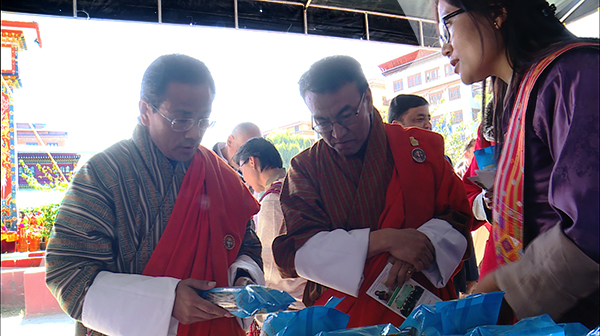 The entrepreneurship culture has seen a significant growth in the recent years. This is evident from the fact that quite a number of young Bhutanese now run their own businesses and many others are seeking to follow suit.
The entrepreneurship culture gaining ground as a career option was emphasised as Bhutan joined the global community in observing the Global Entrepreneurship Week today.
At the opening of the week-long event being held in Thimphu, the change in the mindset of the youth towards entrepreneurship was cited as the driving force behind the growth in the entrepreneurship culture in the recent years.
Some 20 entrepreneurs and start-ups are exhibiting their products and sharing  experiences at a fair being held as part of the week-long event. 26-year-old Pema Lhadon from Paro is one of them. Pema's business specialises on soya bean products. She makes a wide range of food products from soya bean locally known as Shauolee including fermented soya bean paste.
Pema shares that it's been a smooth ride so far. "When it comes to marketing, people are positive about my products," said Pema Lhadon.
"When I say it's locally produced, raw materials are from Bhutan and it's naturally processed, I get good feedback. And my monthly income exceeds Nu 100,000."
Loden Foundation is the lead event organizer. It says entrepreneurship hasn't received adequate attention and support in the past. But now things have changed. Young Bhutanese are more enterprising and are willing to work on their own.
"If we look at the current situation, I think young graduates as students, they start exploring their business ideas and developing their business proposals," said Dorji Tashi, Executive Director of Loden Foundation.
"When they graduate, they not only have their academic qualification certificate, they also have a proposal in hand. They are quite smart. As soon as they graduate, they go around approaching the investment organizations and put up their proposals."
He added such creativity and innovation provides an opportunity for the government, non-governmental and development partners to join hands to build brighter and enterprising future for Bhutan.
The weeklong Global Entrepreneurship Week programme is aimed at introducing the concept of social entrepreneurship to beginners, deliver ideas and skills to those on the journey of entrepreneurship, and promote social responsibility among others.
In a bid to take the Global Entrepreneurship Week celebrations beyond Thimphu, a series of workshops and seminars will be held in university colleges, technical training institutions and high schools across the country.