His Majesty graces Takar Kuchoe
Kipchu, Bumthang

Nov 8, 2017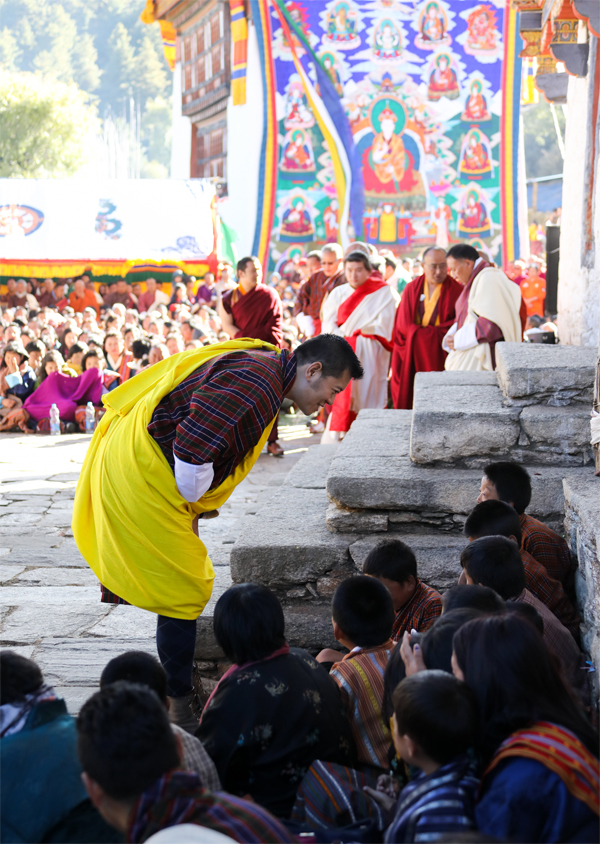 His Majesty The King graced the last day of Takar Kuchoe held at Takar Nagtshang of Chhummig Gewog in Bumthang yesterday.
His Majesty granted a Thongdrel of Thuksey Dawa Gyeltshen to the monastery and its community. The Thongdrel has an image of Thuksey Dawa and a depiction of his lineage. "There are all the ten reincarnates of him on the Thongdrel. It also has an image of his protecting deity, Tandin," said Nimalung Dratshang's Latshab, Rigzin Wangchuk.
Thuksey Dawa is one of the sons of Tertoen Pema Lingpa who established Takar Nagtshang in the 16th century.
The place got its name as Takar after auspicious white monkeys helped him construct the monastery. The monastery's line of descendants called the Takar Zhelngo is one of the most significant lineages in the history of Bhutan.
Various mask dances of Peling tradition were performed at the courtyard of the monastery. Takar Kuchoe is an annual festival celebrated to commemorate the death anniversary of Thuksey Dawa, who passed away in 1586.
In the afternoon, His Majesty granted a Tokha to thousands of people gathered to witness the festival. The community offered Tshogchang to His Majesty.
Earlier in the morning, His Majesty visited Jambay Lhakhang where the Jambay Lhakhang Drub is ongoing. Trakar Kuchoe and Jambay Lhakhang Drub are the two most popular festivals in Bumthang attracting hundreds of tourists.