Bhutan drops two places in ease of doing business
Sherub Dorji, Thimphu

Nov 3, 2017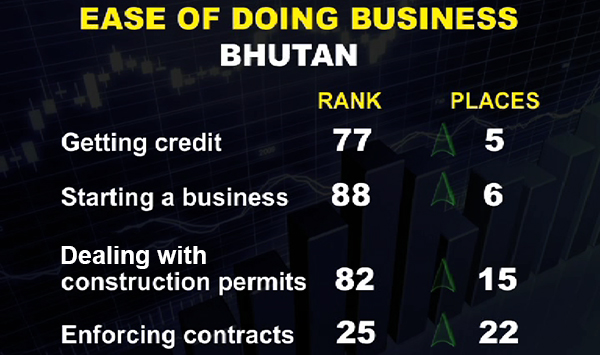 Bhutan has dropped two places to 75th among 190 countries in terms of ease of doing business. This was reflected in the World Bank's recently released report on 'Ease of doing business.'
The report also outlined how easy or difficult it is for a local entrepreneur to open and run a small to medium size business when complying with relevant regulations. Despite the drop, there are a number of areas in which Bhutan has improved. These are starting a business, getting credit, dealing with construction permits, enforcing contracts and paying taxes. However, Bhutan needs to improve in getting electricity, registering properties, and protecting minority investors.
With the central bank reducing the minimum lending rate in March, Bhutan's getting credit ranking jumped to 77 from 82 last year.
The process and number of days required to open a business also improved, resulting in Bhutan gaining six spots in this parametre.
Other criteria such as dealing with construction permits and enforcing contracts saw significant jump, moving 15 and 22 places respectively. Ease in paying taxes also jumped two places to 17th in the world.
"This is not the end, and this is a means to improve and measure business environment. The absolute goal of investment private reform is to improve the business climate for all kinds of business," said Yoichiro Ishihara, Resident Representative of World Bank Bhutan. "Bhutan is going on to the right direction."
The Economic Affairs Minister Lekey Dorji, said there is a political will to improve the ranking in ease of doing business and in terms of legislation, certain reforms have been made.
"Our company law has special provisions for protecting minority rights and has made it easy for registration of companies. Also, judiciary has opened commercial bench to fast track commercial cases," added Lyonpo Lekey Dorji.
However, Bhutan is ahead of her South Asian neighbours. Ranked at 100, India is the closest to Bhutan. And with the government saying it has come up with various amendments across agencies to improve the ranking, doing business in Bhutan is expected to get easier and better.