Thailand expresses gratitude, appreciation to Their Majesties
Sonam Phuntsho, Thimphu

Oct 27, 2017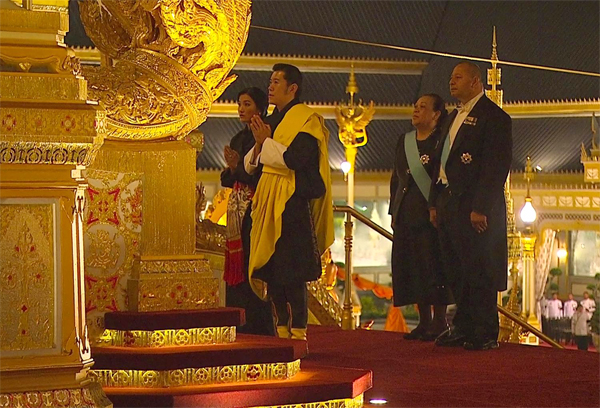 Thailand expressed gratitude and appreciation to Their Majesties for attending the cremation ceremony of His late Majesty King Bhumibol.   
Earlier, His Majesty conveyed messages of condolence to His Majesty King Maha Vajiralongkorn of Thailand on behalf of the people of Bhutan. The royal cremation ceremony, which took place in the Thai capital Bangkok yesterday, was watched by millions around the world.
His Majesty The King and Her Majesty The Gyaltsuen were among the 24 royal families, who attended the royal cremation ceremony of Thailand's late King Bhumibol Adulyadej.
Their Majesties were also the first royal family last year who came to offer respects to the remains of the late King, according to Thai officials. "His Majesty The King has a special affection and respect to our late King," said Krerkpan Roekchamnong, the Director General of the Department of South Asian, Middle East and African Affairs of Ministry of Foreign Affairs, Thailand.
"We know that he admires our King's legacy especially in the communal development and with a special emphasis, perhaps, on the sustainable agriculture. Those are the areas where your King attaches high importance. Thai people too admire your King very much. "
He said Thai people fondly remember and admire His Majesty The King. One of the two most significant events was in 2006 when His Majesty The King, who was then a Crown Prince, attended the late King's 60th anniversary of accession to throne. The other was last year when Their Majesties flew to Bangkok immediately after the King passed away to offer their respects.
"I still remember vividly because on that day, as soon as we received the announcement, I got a call from your ambassador here," recalls Director General Krerkpan Roekchamnong.
"He said he has got the Royal Command that His Majesty would like to come and pay respect to remains of His Majesty the late King. Their Majesties came on 16th October, which was three days after the King passed away. So, those are other reflections of the importance that your King attaches to the Thai King."
His late Majesty King Bhumibol Adulyadej passed away in October last year at the age of 88.