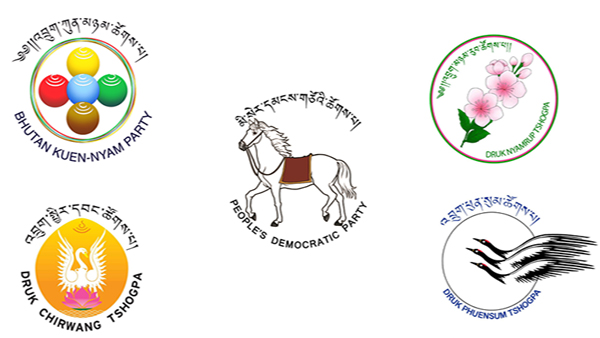 With 2018 elections fast approaching, the political parties are busy finalizing candidates and strategizing ways to rope in voters.
As of now, there are five registered political parties- Bhutan Kuen-Nyam Party (BKP), Druk Chirwang Tshogpa (DCT), Druk Nyamrup Tshogpa (DNT), Druk Phuensum Tshogpa (DPT) and People's Democratic Party (PDP).
BKP says it is ready for next year's elections. "We are more or less prepared, but again we want to make the team stronger, but we are quite comfortable if you're talking about 2018," said Dasho Neten Zangmo, the BKP President.
She added while winning is important, what is even more important is strengthening democracy.
"The political party or winning the elections is not the goal. We need to look beyond 2018 to really establish the political party, and I think that will also apply to all the parties, as a very strong means to strengthen democracy."
DCT is finalizing its candidates. The party says major decisions will be made at the party convention slated to take place next month. "Currently, we're finalising our candidates and identifying some new candidates as well," shared Lily Wangchuk, the DCT President.
"We would probably replace some of our older candidates.  We are also revisiting our manifesto to see of it is still relevant for the 2018 elections and beyond."
DNT says they are coming in stronger than before. The party shared that identifying new candidates have almost finished and that its manifesto is being strengthened. "We have almost completed the identification and nomination of almost all the candidates," said Dr. Tandin Dorji, the President of DNT.
"Of the identified candidates, majority are in their constituencies undertaking their familiarization tours with approval from the Election Commission of Bhutan. We've a few civil servants who are continuing to serve, but we hope they will resign in due time and have time to carry out their familiarization tours."
DPT, meanwhile, shared they are taking on twin responsibilities. They are preparing for the upcoming elections, while carrying out the duties and responsibilities of the opposition.
As far as candidates are concerned, DPT says there is no dearth of choices but the party will only settle for the best ones. "From our 14 parliamentarians, four of them will be retiring because of the age limit," shared Ugyen Dorji, the Secretary General of DPT.
"So, we will have only ten, which means we have to identify 37 new members. I cannot say how many we have finished selecting, but we have completed about 60% of the selection works."
For the People's Democratic Party, their role as the governing party remains the top priority. But it is, at the same time, preparing for the elections.
Identifying new candidates have finished and the party is now working towards strengthening its manifesto. "We are working at strengthening the dzongkhag offices identifying our gewog coordinators," said Sonam Jatso, the Secretary General of PDP.
"We are  in need of 16 new candidates, so we are busy identifying and selecting them. We are also compiling documents and preparing our policies and plans."
The country's third parliamentary elections are expected to start with the National Council elections in February next year.