Farmers in Bumthang revive buckwheat cultivation
Kipchu, Bumthang

Oct 12, 2017
Buckwheat cultivation in Bumthang has been on a declining trend over the last few decades. However, the district is now seeing a revival in the cultivation of the traditional crop. Thanks to an initiative by the Dzongkhag Agriculture Sector and the National Biodiversity Centre which aims at diversifying and marketing buckwheat products.
Jalikhar Village, a few kilometres away from Chamkhar town has the highest cultivated area of buckwheat crops in Chhoekhor Gewog. The fields are owned by a group of farmers who are actively engaged in the project. Other farmers who are not in the group have also started growing buckwheat on a wider scale. This is because of an improved mark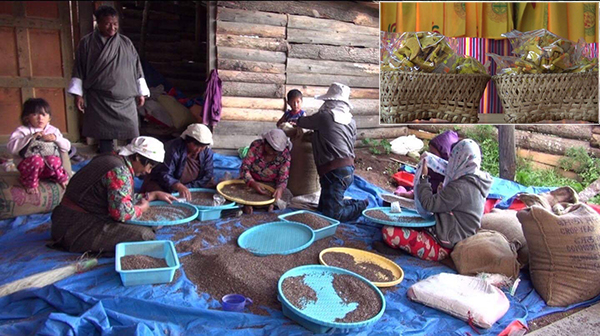 et for the crop.
"People were more involved in potato cultivation and that resulted in shortage of buckwheat flour during rituals. So now, we are focusing more on buckwheat cultivation," said a farmer named Nazom of Sanam Chithuen Rangzhin Tshogpa.
Sanam Chithuen Rangzhin Tshogpa was established in 2010 with the mandate to diversify crop cultivation. Since then, it has been making significant strides in reviving buckwheat crop in the district. Buckwheat is used for making cookies, puta (bumthap cuisine), and pancakes. Its husks are also used for making pillows which have become popular among the tourists.
"We now think that we have achieved what the Agriculture Ministry and ourselves targeted for. For example, in the past, a drey of buckwheat used to get only Nu 15. Now, it costs Nu 50. We are happy we have been able to revive the crop cultivation," said Chairperson of Sanam Chithuen Rangzin Tshogpa, Sonam Tobgay.
Agriculture officials said crop diversification is crucial for farmers.
"If we are to develop a new variety of the crop, we need the genes of the aboriginal variety as well. The other thing is that due to climate change, some of the crops don't grow as it used to in the past," said Gaylong, the Dzongkhag Agriculture Officer. "It's important that we have varieties of crops in cultivation so that if one of the crops has lesser yield, the other can substitute it."
Last year, Bumthang cultivated about 1000 acres of buckwheat which is the highest acreage of crop cultivation in the district. With more farmers involved in buckwheat cultivation now, the crop is set to become the most essential cereal for the farmers of Bumthang once again.