10 basketball coaches undergo Coaches Clinic camp
Sherub Dorji, Thimphu

Sep 25, 2017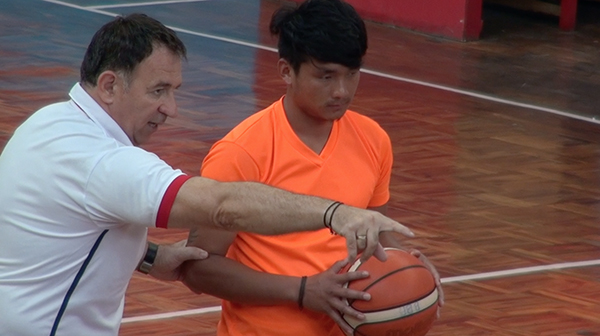 Ten basketball coaches including three women are undergoing a weeklong Coaches Clinic camp at the swimming pool complex in the capital. The coaches are being trained by Milan Opačić, a clinic expert from Serbia.
As morning theory class begins, basketball coaches from Bhutan are hoping one day they will be able to lead the Bhutanese basketball team as head coaches. The trainer from Serbia says, Bhutanese coaches are motivated.
"The coaches are very interested for the topics. They are young, they are motivated, they want to learn and we exchanged some materials and I hope they will grow up very soon,"said Milan Opačić, Clinic Expert from Serbia.
Theory classes, practice drills, and practical exercises are some of the routines that the coaches go through.
"First we study how we teach using theories, after we learn that; performing it practically is not hard. That's why in this advanced level course, even if we don't understand the theory, when we do practicals it becomes clear," said Dechen Phurpa from the Bhutan Basketball Federation.
The trainer said, a few coaches will be selected to be trained at a world class training facility in Belgrade, Serbia.
"I told them it is not enough to spend one week in Bhutan. They must send some coaches, players and some referees to Serbia. We have the best basketball academy in Europe and the biggest one with couple of thousand kids from around the world," said Milan Opačić. "It will be a good experience for all basketball people from Bhutan."
Organised by the Bhutan Basketball Federation, the clinic camp will end this Friday.