Royal Grandmother grants lunch to devotees at Kuenselphodrang
Aug 28, 2017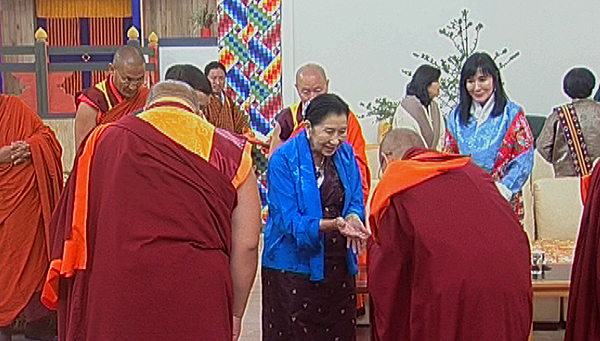 Her Majesty the Royal Grandmother, Ashi Kesang Choeden Wangchuck granted lunch to the devotees at Kuenselphodrang yesterday who are receiving Kanjur oral transmission from His Holiness the Je Khenpo.
Her Majesty and their Royal Highnesses Ashi Sonam Choden Wangchuck, Ashi Pema Lhaden Wangchuck, Ashi Kesang Wangmo Wangchuck and other Royal family members offered Ku Sung Thu Gi Mendrel to His Holiness the Je khenpo.
Her Majesty also offered a thousand butter lamps at the Kuenselphodrang and Chan-gyab to the devotees.
At the event, a team of 36 monks led by Zhung Dratshang's Letsho Lopen Sangay Dorji is also reviewing a Kanjur, handwritten in gold.
Monks from various Shedras are also attending the initiation. To ensure that the monks  do not miss out on their studies, they receive lung during the day and attend regular classes in the evening. His Holiness administered Kanjur Lung twice while he was serving as the Dorji Lopen. This is the second Kanjur Lung that His Holiness is administering after he became the Je Khenpo.
Thousands of devotees are receiving the oral transmission every day. The 108 volume Kanjur contains direct teachings of the Buddha himself.
The three month event is scheduled to end towards the first week of November.