PM visits gewogs in Wangdue Phodrang
Aug 27, 2017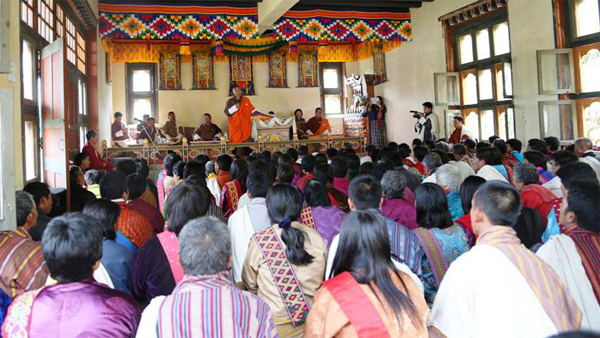 Prime Minister DashoTshering Tobgay discussed various issues with the people of Wangdue Phodrang during his recent visit to the gewogs in the dzongkhag.
Issues related to farm roads and the problem of water shortage were among the top concerns raised by the people in Wangdue Phodrang. The people of Bjenag Gewog raised their concerns over the delay in Khotokha farm road soling works.
The people said the road is a crucial lifeline. It enables them to transport potato, their main source of income, to the market. But the road, they said, is now in a poor condition.
The Prime Minister assured the people in the gewog that the road will be improved. "The road has to be made better as it immensely benefits the people," said Lyonchhen. "The road maintenance works are underway and it will be properly monitored."
The Prime Minister added that he will personally visit the ongoing works soon.
Similarly, the people of Nahi and Kazhi Gewogs, too, raised concerns over the delay in Gewog Centre road blacktopping works. The people of the two gewogs also raised the issue of low potato prices.
The Prime Minister reminded the people about the tireless efforts made by His Majesty The King to achieve the national goals. Lyonchhen told the people that it is important for every individual to strive towards achieving the national goals.
The shortage of water has been a long-standing issue in Phangyul Gewog. When they got the opportunity to meet Lyonchhen, the people of the gewog made sure to make their voices heard on the matter.
They told Lyonchen that they have not been assured of any concrete plans to address the shortage.
The Prime Minister told the people that the government is aware of the issue and that various feasibility studies have been conducted to address the problem.
"We will definitely come up with a permanent solution," said Lyonchhen. "We are not so sure about the long-term plan for irrigation water but we will make sure the problem of drinking water shortage is addressed within this year. If bore well plans don't work,  we may have to pump water from the nearby stream."
The health minister accompanied Lyonchhen during the visit. Lyonpo Tandin Wangchuk advocated for better health and sanitation. He said the ministry will provide necessary medical facilities as and when needed.