Tsirang's annual marathon sees less participants
Namgay Wangchuk, Tsirang

Jul 30, 2017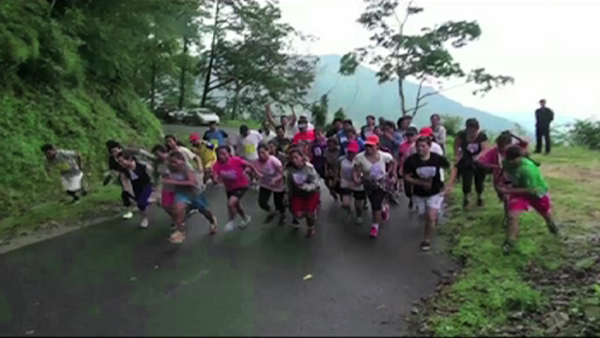 Over 60 runners took part in annual dzongkhag marathon in Tsirang, yesterday. While the event, into its 3rd edition, has remained as one of the annual activities in the calendar, the organisers say, the number of participants has been decreasing.
Participants completed in three different categories. In 39 years and below category, 26 years old Bhim Prasad Neopani kept his pace to defend the winner's title for the third time. The farmer from Tsholingkhar Gewog completed 15 kilometre race in about an hour.
"I did not practice this time because I was occupied with paddy transplantation. I knew about the competition only yesterday and took part in it. We are happy there is such an event here. It helps us stay fit," said winner, of the 39 years and below category, Bhim Prasad Neopani.
In 40 years and above category, 45 years old Karchung, a police by profession, bagged the first prize. He complete the 12 kilometre race in 58 minutes. In women's 39 years and below category, 28-year-old Tika Kumar Mongar, a civil servant, won. In 40 years and above category, a homemaker, Pema Yangzom claimed the title.
Officials from the dzongkhag administration said the number of participants is decreasing every year. This, they said, could be due to the lack of understanding among the public about the benefits of taking part in such activities.
"Marathon is organised specifically for fitness. People think taht after so much of running if they do not win it is useless. If they win they will participate. I think there is such misunderstanding," said the Gyem Tshering, Dzongkhag Statistical Officer/Organiser.
He also said since the marathon this year coincided with the summer break of schools, some people have left Tsirang for vacations bringing down the turnover of participants this time.