Tigers' survival depend on well-established prey-base
Phub Gyem, Thimphu

Jul 29, 2017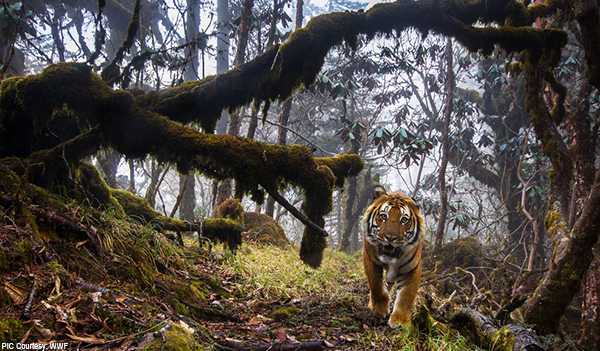 Tiger is a top predator and ensuring their survival depends on a well-established prey-base. For the survival of the endangered cat, it requires the species it preys on to prosper in a shared habitat.
Towards ensuring this, wildlife conservationists observed the Global Tiger Day on the theme preserving prey-base for tiger conservation in the capital today.
Global Tiger Day was first observed on 29th July in 2010 where 13 tiger range countries came together to create global goal of doubling the number of wild tigers by 2022.
Today, Bhutan remains committed to achieving this global goal by ensuring strong prey-base for the cat's survival.
Wildlife conservationists observed the day at the Royal Takin Preserve at Motithang. In the wild, these species are the prey-base for the endangered cat.
"What I would like to emphasise is that within this preserve it is not only Takin we have, but we also  have other species like Sambhar, Serow, Barking Deer, and also like Gloral which are food prey base for the tiger. Tiger is the apex occupying the food chain and through conservation of tiger it basically benefits the entire species which are also entirely dependent on natural environment," said the Chief of Nature Conservation Division with the Ministry of Agriculture and Forests. "Conservation of tiger basically includes conserving the habitat which is equally important for other prey species required by the tiger for survival."
Bhutan has 103 of the 3,200 tigers that exist in the wild, spread across 13 countries in Asia and the Russian Far East.
Since the beginning of the 20th century world tiger population have declined by over 95 percent due to hunting and habitat loss.