Chamkhar-Dekiling bypass road construction on track after few hiccups
Kipchu, Bumthang

Jul 29, 2017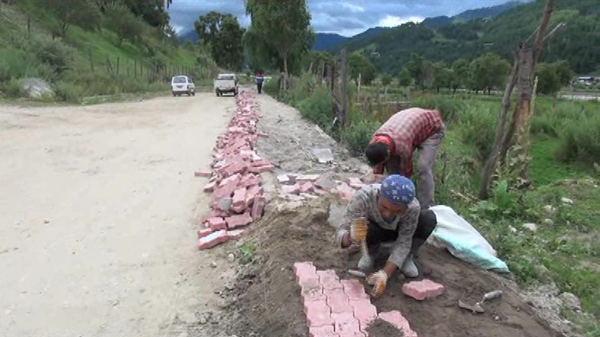 Works have resumed at the long overdue Chamkhar-Dekiling bypass road in Bumthang after a delay of more than six months.
Construction works were stalled after the previous contractor was fired by the Dzongkhag Tender Committee in December last year due to his failure to complete the works on time. Despite the project being resumed, the commuters are fuming over the incomplete road's condition.
Currently, vehicles hurdle through the waterlogged stretches along the unfinished one and a half kilometres bypass road, caused by the recent downpour. Drivers worry of cars being hit underneath by invisible rubble. Elsewhere, where there are no surface water, drivers and pedestrians are troubled by the dusty parts of the road.
"There are several pools of surface water on the road. So, when we drive speedily in such conditions so as not to get stuck, the surface water gets splashed on the pedestrians and there are laws governing such actions," said one of the motorists, Sonam Wangchuk, adding that driving along the road is frustrating.
Like him, other commuters said there are several problems associated with the bypass road.
"There are high chances of pedestrians getting wet by the cogged water splashed by cars. Secondly, if one has to ride a bicycle, there are chances of getting cough and other illnesses," said Pushkar.
The road construction initially began in July 2015 by the former contractor. He couldn't complete the project within the duration of seven-month due to unforeseen additional works. The project's completion date was extended by another seven months. He failed once again and was terminated.
The work was then awarded to a new contractor in March this year. The project's cost escalated by  Nu 10m in the midst of the delay which now costs about  Nu 40m to complete the project. However, the project's site engineer is now confident that the road will be complete by September this year.
"The contractor has to submit a weekly work plan and then the Dzongkhag Tender Committee inspects the site and sees if the works are progressing as per the plan," said the Municipal Engineer, Pema Letho.
The project is a part of the Bumthang Urban Infrastructure Development Project which includes the construction of three roads and a bridge within the Dzongkhag Thromde. The Chamkhar-Dekiling road is meant to ease traffic congestion along the Chamkhar-Wangduechhoeling road during the time of festivals in the Dzongkhag. The bypass road connects lower Bumthang town to its upper townships.