Long-awaited Duenchhukha bridge opens
Damcho Zam, Samtse

Jul 28, 2017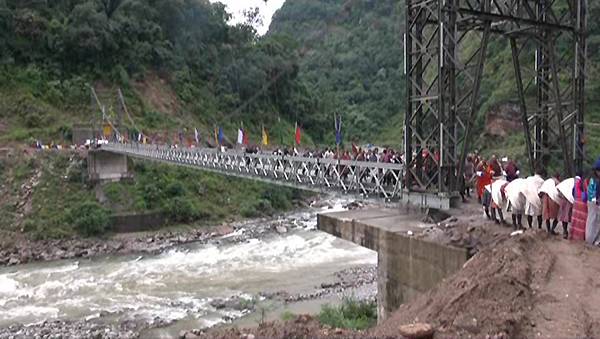 The bailey suspension bridge over Amochu at Duenchhukha Gewog in Samtse is now open to traffic bringing relief to the people in the Gewog.
It has been over five years since the works for the construction of the bridge commenced.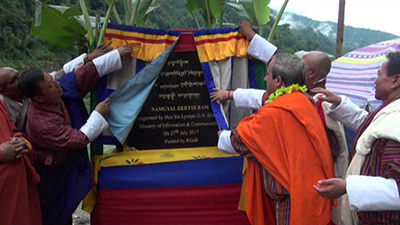 The bridge collapsed last July, when the connection of the two sides of the bridge was ongoing, claiming lives of eight workers. The incident took place immediately after launching the bridge and works were almost complete.
But with a successful launching of the bridge this time, all the people from three Gewogs under Dorokha Drungkhag gathered to celebrate the historic moment. The inauguration started off with a traditional marchhang ceremony with Hindu priests and Buddhist monks chanting prayers to avoid mishaps in future.
The Information and Communications Minister, D.N Dhungyel inaugurated the bridge.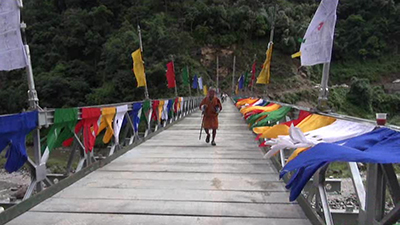 "Government fully supported us with budget to construct the bridge and the contractor has put in effort in successfully launching the bridge despite encountering some inconveniences," said Dorokha Drungpa Karma Jurmi.
In absence of the bridge, the locals have been affected badly.
"Without the bridge, we had to walk till our village carrying heavy loads. The road was also not so good and of course the temporary bridge was not serving our purpose," said Duenchhukha Tshogpa, Asar Singh Rai. "But now we have a good bridge and a farm road till our villages. We are really happy."
The bridge will connect about 600 households in Denchukha Gewog with other areas in the Drungkhag.