Samtse College of Education offers master's in science and maths
Damcho Zam, Samtse

Jul 28, 2017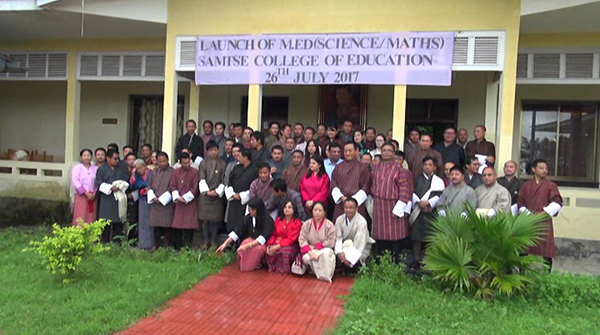 The Samtse College of Education (SEC) on Wednesday opened its door to its first batch of students enrolled in the science and mathematics master's course.
A total of 40 high school maths and science teachers from schools across the country who were selected on merit basis by the education ministry are undertaking the two-year course.
The college is the first in the country to offer this postgraduate course. The launch of the Master of Education in Science and Maths this week comes nearly 10 years after the SCE began working towards it.
"We looked at class ten and twelve board exam results in general and came to know the students are not performing well in science and mathematics," said Dr. Nandu Giri, a faculty member of SCE. "This made us to work on the masters program for the teachers so that they would become competent in content knowledge and teaching methods."
A survey carried out in 2007 by the college to find out challenges faced by the teachers who graduated from the college also got the college interested in starting the program.
The study findings revealed a need for the teachers to improve their content knowledge and pedagogical competencies.  A need for the teachers to do research on classroom teaching and learning was also identified.
The President of the Samtse College of Education, Dorji Thinley, said the program will engage students through a lot of research, critical thinking, analysis and investigative works. "All faculty members will make sure the relevance and rigor of the program is ensured at every moment of the postgraduate journey," he added.
One of the teachers enrolled in the program, Dorji Norbu, said he is excited to be among the first group to study the course. "This course is going to be interesting and relevant as it is designed to cater to the needs of our students," he said.
Apart from the 40 selected teachers, the college had set aside 12 spots for self-financing students but no one applied this time. It will cost the self financing students Nu 1, 27,000 in tuition fees to study the course.