His Eminence Namkhai Nyinpo Rinpoche presides over prayer recitation
Passang, Thimphu

Jul 26, 2017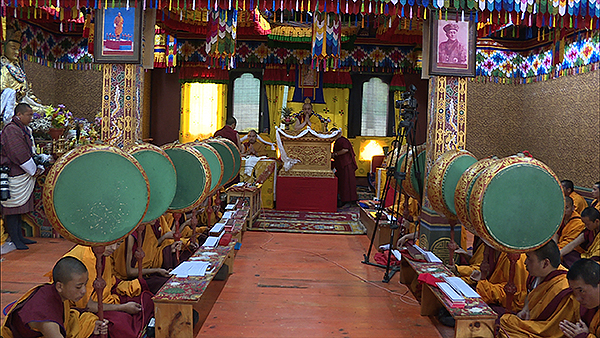 The five-day "Jungwazhi-Bum-Ther" recitation is under way at the Jigme Dorji Wangchuck Memorial Chorten in Thimphu. His Eminence Namkhai Nyingpo Rinpoche along with other eminent religious personalities from Bumthang Lhodrakharchu Dratshang and Thrichhu Goenpa in Trashi Yangtse are presiding over the recitation.
The Jungwazhi-Bum-Ther is considered among the most potent supplications to Ugyen Guru Rinpoche for overcoming the future catastrophe arising from nature's four elements: soil, water, fire and wind. The recitation is called Jungwazhi-Bum-Ther as it is chanted 100,000 times.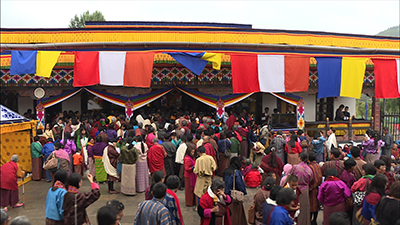 "Mantras for soil, water, fire and wind are sacred prayers of Guru Rinpoche. We are reciting this prayer firstly for the wellbeing of all sentient beings, particularly to ward off the misfortunes triggered by four elements," said the Teacher of Thrichhu Goenpa, Karma Drugyal. "There is a saying that Ugyen Guru Rinpoche himself in the form of god use to visit us and eliminate disasters if we recite this."
The recitation which began on Sunday will end tomorrow. Thousands of devotees flocked to the memorial chorten to offer prayers daily. The Thrigon Pema Woeling Shedra in Trashi Yangtse is organising the spiritual event.
His Eminence Namkhai Nyingpo Rinpoche will administer Tshewang, the blessing of long life to the public on Friday at the RBP ground below the memorial chorten in Thimphu.