BAOWE proposes to open Women Chamber in Bhutan
Samten Dolkar, Thimphu

Jul 21, 2017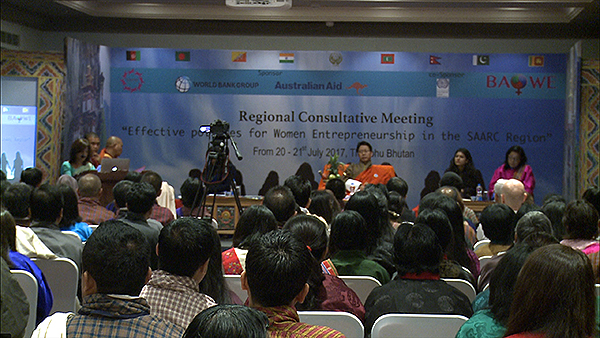 The Bhutan Association of Women Entrepreneurs (BAOWE) highlighted the need to establish Women Chamber in Bhutan. The proposal was tabled during the two-day SAARC regional consultative meeting which ends today in Thimphu.
Today, of all the eight SAARC member countries, only Bhutan does not have the Women Chamber to facilitate aspiring as well as established women entrepreneurs to incorporate them into mainstream businesses.
The Chief Executive Officer (CEO) and Founder of BAOWE, Damchae Dem said Women Chamber is crucial for a country like Bhutan where majority of women are unemployed. If such an organisation is instituted, it will exclusively work towards women's economic and social empowerment especially in rural pockets of the country.
"Look at other SAARC member countries, they have reliable data about women entrepreneurs and know how to initiate activities for boost women's entrepreneur skills," added the CEO of BAOWE, Damchae Dem.
Like her, other Bhutanese businesswomen said a separate entity is needed to address issues related to women's entrepreneurship skills and participation.
"We are happy to have a woman president for Bhutan Chamber of Commerce and Industry right now. But we are uncertain if the next president will be woman too, said Pushpa Chettri, a Social Entrepreneur with Bhutan Media and Communications Institute, adding that there should an institution to look after women entrepreneurs' welfare.
The CEO of BAOWE Damchae Dem, who is also one of the first female entrepreneurs in the country critically views Bhutanese women to lack business ideas and innovations.
"Our farmers, mostly women lack ideas. Secondly, there is no market. So we in BAOWE recommends them not sell their products as raw material for it's a colossal loss."
The resolutions of the two-day consultative meeting will be compiled into a report and submitted to the SAARC Secretariat in Kathmandu, Nepal.