Dratshang Lhentshog looks at enhancing financial & administrative services
Kinley Dem, Thimphu

Jul 17, 2017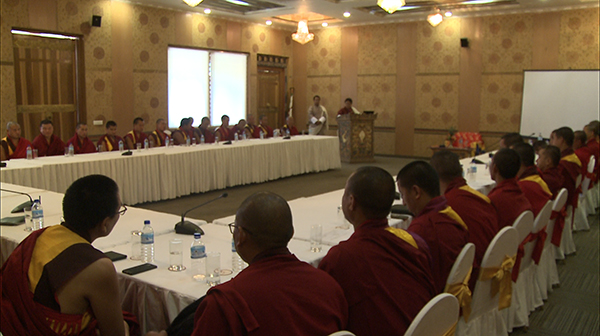 In a move towards improving financial and administrative service delivery including property management of Zhung Dratshang(Central Monastic Body), the annual conference for the Rabdey Dungchens began in Thimphu today.
The three day conference is expected to streamline the responsibilities of Rabdey Dungchens and prepare them in making precise budget and administrative plans.
The conference will focus on sensitising, educating, and training all the representatives from the Zhung Dratshang and 17 Rabdeys across the country. The Secretary of Dratshang Lhentshog Karma Tshering Namgyal said without no prior trainings, there had been few lapses in accounting and management matters of the Central Monastic Body.
"When we don't have trained officials in particular field, we encounter problems. So it is right time for officials of Dratshang Lhentshog to get acquainted with budgeting and accounting procedures," asserted the secretary.
He is also of the view that the conference would familarise the participants about civil service rules and regulations along with financial manuals of the country. For this, the conference will also include sessions whereby representatives from the Anti-Corruption Commission and the Royal Audit Authority would shed some light on their legal documents.
"I don't think corruption is free in Zhung Dratshang too. There are certain areas that we need to sensitise and educate our officials on ant-corruption act, rules and regulation," said Karma Tshering Namgyal, the Secretary of Dratshang Lhentshog.
Zhung Dratshang's Secretary General Passang echoed same opinion.
"If we work in accordance with the rules and regulations of the government, there will be better results and everything will be in line with the law. Therefore I find this workshop very important."
Members from Rabdeys are also looking forward to the training's fruitful outcome.
"Since the post holders change with time, there have been some shortcomings.  So from this workshop, I hope we will be able to manage budget better with transparency," said Secretary of Lhuentse Rabdey.
Some 46 participants from all the 20 districts are attending the meeting which ends this Wednesday. Today, there are over 7000 registered monks with Dratshang Lhentshog which is a State Funded Agency.