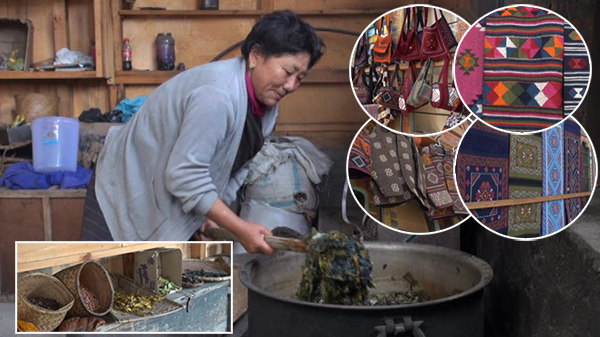 The traditional method of dyeing woolen yarns to weave Yathra in Bumthang is hardly practiced today. The tradition of Yathra weaving is native to Bumthang valley and is particularly popular among the women of Chhumig Gewog.
From over two hundred Yathra weavers of Chhumig Gewog currently, 56-year-old Sonam Lhamo of Zung-Ngae village is the sole practitioner of the art.
She mostly collects the raw materials for dyeing from the eastern Bhutan. She says traditional dyeing method is time consuming and laborious. "That's why children prefer working in offices than taking up this kind of job. Let alone practicing the dyeing method, not many children even like to weave now," she said.
For example, dyeing a single skein of yarn usually takes over a week and can go up to a month as well. Moreover, availability of wool has become scarce with decline of sheep farming in the district. This has led weavers to opt for imported yarn which are readily available in the market today.
"Likewise, villagers have also given up the method because most of the buyers think yathra products are cheap. So, when they don't fetch good prices, their interest wanes," she added.
Sonam Lhamo has been running a handicraft shop in her village for over thirty years now. Some of the local weavers sell their yathra products in her shop which are woven from imported yarns even if most of the elderly women in the valley know the indigenous dyeing method.
"Now, people opt for imported yarn as it makes weaving much easier. We don't get sheep wool too," said Sonam adding that imported yarn was not available in the past. "In the past yathra weaving was not as extensive as it is today. People used to weave one or two pieces which were rich in patterns and of good quality."
With the decline in the age old practice of making fabrics, it seems that the tradition which has long been associated with the valley will gradually become a thing of the past.