Dr.Tobgyal student wins Golden Youth Award 
Kinley Dem and Passang Dorji, Thimphu

Jul 12, 2017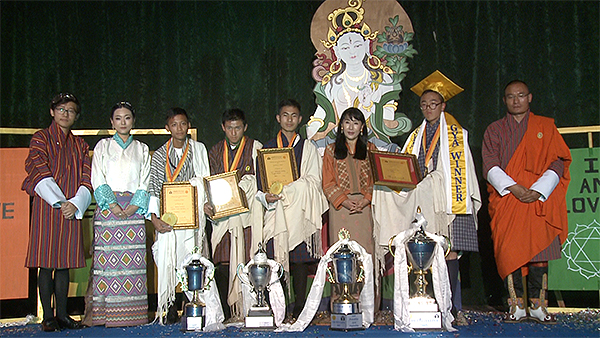 Wangdrak Dorji, a student of Dr.Tobgyal School in Thimphu won the 10th Golden Youth Award. Her Majesty the Queen Mother Tshering Pem Wangchuck awarded the Golden Youth Award yesterday in Thimphu.
The winner receives the prestigious scholarship from the Bhutan Youth Development Fund (YDF) to study abroad. The week-long Camp aims to motivate and reward outstanding students.
Every year, 80 students selected from 20 Dzongkhags gather in Thimphu to compete for the award. They go through a series of competitions from literary activities and sports to exceptional talent shows.
The camp motivates youth to be hardworking, responsible, consistent and excel in both academic and co-curricular activities.
The award winner Wangdrak Dorji, said, he has been able to acquire various knowledge and experiences from the camp. "On the first day we did not know each other much. But as time developed, so did our bond. We knew friends better and had new experiences," said Wangdrak, thanking his school principal, teachers and parents for his success.
Abishek Ghalley from Drukgyel Central School received the first runners up award followed by Tsheltrim Wangchuk from Chundu Armed Forced Public School in Haa and  Younten Jamtsho from Gelegphu Higher secondary school.
Unlike in the past, the winner and the first runners up this year up will get an opportunity to attend an international youth forum in Hong Kong this year funded by World Wildlife Fund.
The First Golden Youth Award Camp was organized formally by Youth Development Fund  in 2008.