Nazhoen scout camp is also popular among non-students
Tshering Zam, Trashi Yangtse

Jul 3, 2017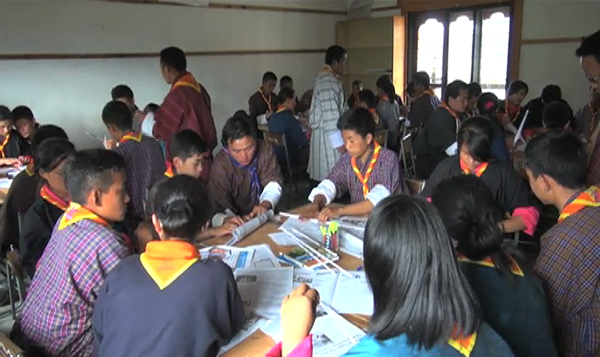 In Trashi Yangtse, scout programmes are not only gaining popularity among the school going children but also for out-of-school youth and locals.
The three-day Nazhoen Scouts and Youth Camp which is underway since yesterday has over 40 school leavers and community based scout members, mostly local residents taking part in the programme.
One of the participants is 20-year-old Karma Tshering from Khamdang Gewog. He left his farming works behind and came forward to participate in the youth camp simply because it has important social messages and initiatives.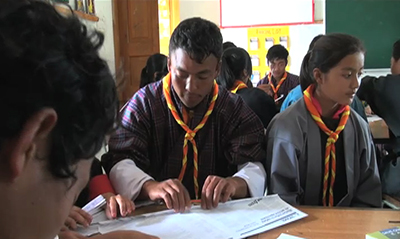 Karma who had studied till the tenth standard said being the part of Nazhoen Scouts and Youth Camp was dream come true. Today, he is learning about recycling wastes which he feels is an important issue that needs urgent attention in his village too.
"In my village, people throw wastes everywhere but if we have to manage it then we need to recycle it. So once the event is over, I will sensitise my village mates about recycling papers and plastic wastes," said Karma Tshering.
Apart from villagers, local government members are also finding the youth camp useful for the professional growth.
"As we interact with students, we become more knowledgeable since they know more than us and well versed in wholesome education," said Tharchen, Tshogpa of Toedtsho Chiwog. He added that, "By communicating with students, they can also inculcate leadership skills."
The Chief Dzongkhag Education Officer Kinzang Dendup said waste is a common problem elsewhere in the country and thus, waste management and recycle of wastes were consciously chosen for the programme.
Nazhoen Scouts and Youth Camp is organised to engage students' summer vacation meaningfully and inculcate team spirit and basic life skills.