DHI initiative to rehabilitate forests destroyed by fire
Passang Dorji, Thimphu

Jun 25, 2017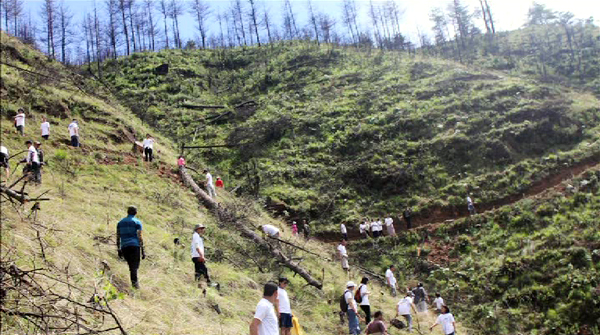 Some five of acres of forests in Sangaygang in Thimphu, which were  damaged by fire last year, will be restored under a new initiative called Supporting Green Compensatory Plantation.
The program, which kicked off today, saw the Bank of Bhutan (BoB) help the Natural Resources Development Corporation Limited (NRDCL) plant 6,400 saplings of blue pine, oak and rhododendron.
"BoB volunteered to adopt the area in Sangaygang," said the bank's CEO Pema Nadik. "This is the type of volunteerism that we try to inculcate in our staff."
The Druk Holding and Investments (DHI) initiated the project to encourage its companies to contribute towards environment conservation.
The other DHI owned companies taking part in the project this year are Druk Green Power Corporation (DGPC), Bhutan Power Corporation (BPC) and Bhutan Telecom (BT).
The NRDCL is the implementing agency. It is responsible for indentifying plantation areas among others. "In total, we have identified 22 hectares and they have adopted different areas," said Sonam Choiphel, the Officiating CEO of the NRDCL.
"NRDCL will be taking a lead role in this project, while the financial support will be provided by the DHI owned companies," he added.
The project will see more than 35,000 tree saplings planted over the next five years.