Flower exhibition to open at Memorial Chorten
Kinley Dem, Thimphu

May 31, 2017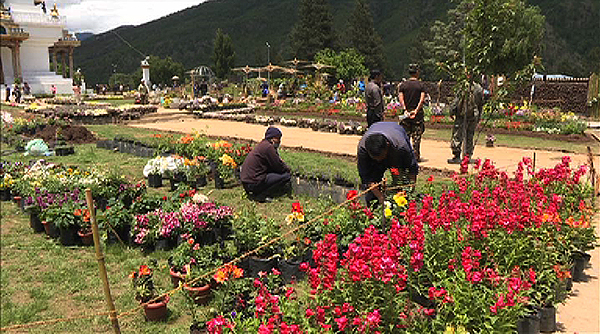 The 3rd edition of the Royal Bhutan Flower Exhibition will be held at the National Memorial Chorten in Thimphu this year. The earlier editions of the exhibition were held at the Ugyen Pelri Palace in Paro.
According to the organisers, 90 percent of the work is complete.
The Memorial Chorten has a colourful and festive look in preparation of the flower exhibition.
Staff from the Agriculture Ministry, Thimphu Thromde, the Bhutan Power Corporation and other government agencies are working round the clock to finish in time for the opening on June 5.
The exhibition will display Bhutan's rich indigenous plants and herbs as well as a large variety of ornamental flowers.
The Agriculture Ministry announced on May 2 that this year's exhibition is dedicated to His Majesty the Third Druk Gyalpo, Jigme Dorji Wangchuck.
The exhibition will run until June 11 for local and foreign visitors. The inauguration ceremony will be held on June 4.
Her Imperial Highness Princess Mako of Japan, who arrives in Bhutan tomorrow, is also expected at the opening event.
This year's exhibition features gardens developed by international participants from India, Thailand, and Japan. Besides government agencies and armed forces, private nurseries are also participating.
During the exhibition, the vehicular traffic will be prohibited near the Memorial Chorten.