First of its kind bridge under construction in Trongsa
Kipchu, Bumthang

May 27, 2017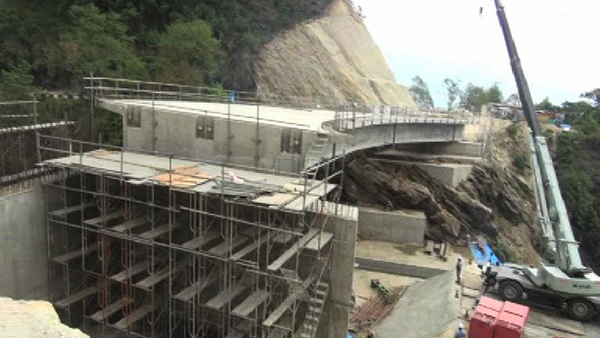 Bhutan will soon have its first Post-Tension Box Girder Bridge built over Zalamchu in Tangsibji Gewog in Trongsa.
The bridge which has special features such as slopes and curves for traffic safety will be the first of its kind in Bhutan and one of the rarest in the world.
According to JICA officials, about sixty percent of construction is complete and the bridge will open to traffic by March next year.
The Bridge which is being built with financial support from the Japanese government is curved and sloppy on one of its edges.
This is designed to allow vehicles to move without having to slow down while driving over the bridge. All the concrete structures are built with absolutely no gravels or sand mixed in it.
Inside the walls of the bridge are hollow tunnels to increase its loading capacity and strength. A Japanese construction company is constructing such kind of bridge for the first time.
"Such bridge is not only the first of its kind in Bhutan but also in the world. It has loading capacity of 70 metric tonnes which facilitates transportation of heavy equipment for hydropower projects," said Koji Yamada, the Chief Representative of JICA, adding drivers will also save travel time driving along the bridge.
The new bridge once complete will allow two trucks to move at a time. Similar bridges are also under construction at Nikachu and Chhuzomsa in Wangdue Phodrang through the Japanese government's Technical Assistant Grant.
The existing bridge over Zalamchu was built some 35 years ago. Reinforcements were made to allow the bridge to increase its loading capacity for delivery of hydropower construction equipment.