Bhutanese student's letter competes in international competition
Pema Seldon Tshering, Thimphu

May 5, 2017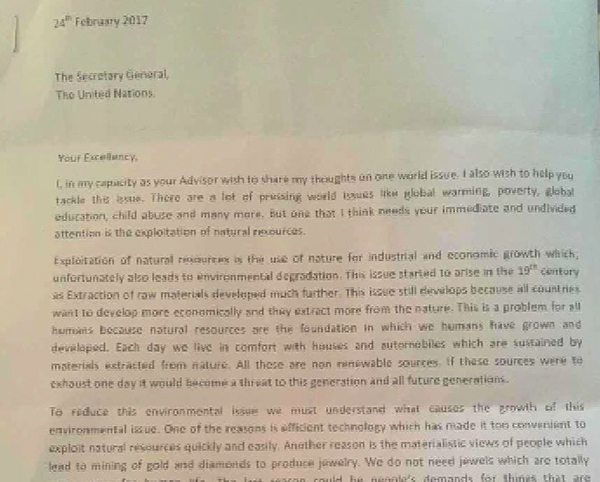 A letter written by Tenzin Dresen Wangmo, a Thimphu student that calls for attention on the exploitation of natural resources, will represent Bhutan at the 46th International Letter Writing competition.
The International Letter Writing Competition is an annual event organized by the Universal Postal Union. This year's competition required participants to write a letter to the newly elected UN Secretary General about a world issue that the participants, as his advisor, would like him to tackle first.
Tenzin Dresen Wangmo, in her letter, shares her concerns over nature being exploited for economic development in the world. She also outlines a few recommendations to counter the issue.
The 8th grader's letter was chosen as the best from among the 11 entries received from schools in Thimphu for the national-level competition.
"I wrote about natural resources as it is a topic that is a big part of Bhutan," said Tenzin.
Bhutan Post organized the competition in the country. Usually, it invites entries from schools across the country. However, the office said, this time, only schools in the capital could take part due to time constraint. The top three entries received cash prizes and stamp album each sponsored by Bhutan Post.
The head of corporate and international relation of Bhutan Post, Tshering Chhokie, said through the competition, they are also trying to revive the practice of letter-writing, which today is almost non-existent.
The Universal Postal Union launched the competition in 1971. It is to encourage literacy among children and young people and develop their skills of expression.