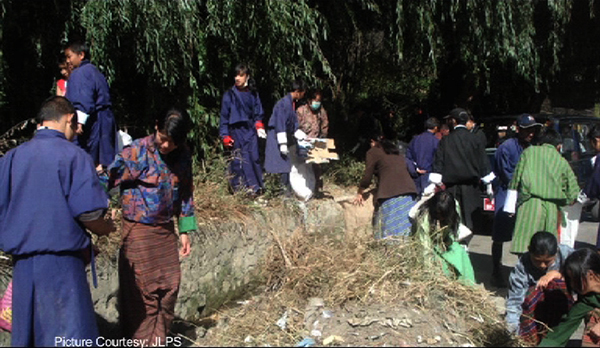 Jigme Losel Primary School in Thimphu is not only managing wastes properly but also generating income from it.
The school has earned over Nu 1 M by selling wastes since 2010 when it launched waste management programme.
Students and parents bring non-degradable wastes such as pet bottles, cardboard boxes, and empty steel packaging cans to the school. The wastes are then sold to the scrap dealers.  As for degradable wastes, they are used as manures in school's vegetable garden.
The school's principal, Choki Dukpa said, "Students came up with collecting trash every day. Then, we thought of initiating mass waste management programme in the school. This is how the wastes were collected and fund generated from it".
The money earned from the sale of trashes has helped school to buy many necessary items such as water filters, pipes, and a television set.
It was also spend for buying mattresses which were distributed to over 20 Basic Health Units in the country. Besides this, the money is being used for paying temporary teachers of the school.
"Graduates look for job and until they are gainfully employed, we ask them to intern in our school. So, for the work they do in the school, we pay some amount as pocket money for them. That way, they don't need to be dependent on their relatives," added the school's principal.
The  such waste management programme has also instilled students with environmentally sound attitudes.
"I think collecting waste is a good habit because first of all we are preserving the environment. Secondly, all sentient beings can live in clean surroundings," said one of the students, Sonam Wangmo.
Jigme Losel Primary School also won the Race against Waste Competition, initiated by the Druk Green Power Corporation in 2013. It collected the maximum wastes among  the 15 schools under Thimphu Thromde which took part in the competition.