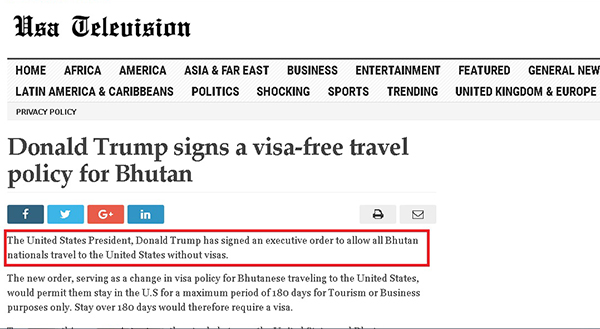 The growth in the fake online news content and sites, which looks exactly like the real ones, is making it difficult for online users to spot the fake and the real or differentiate between the two.
The result is that a lot of people are seeing and believing false and fabricated stories. For instance, many Bhutanese Facebook users fell for the recent fake news about US president Donald Trump signing an executive order granting the Bhutanese a visa free entry to the US.
The story received numerous shares, comments and reactions seconds after it popped up on Facebook. Many believed the news to be accurate when in reality it was nothing but a totally made-up piece.
Kinley Dorji, a university graduate says it's hard to make out if the stories are real news or fake stories. "These days, we are flooded with information and it's hard to tell them apart. I'm sure there are others who are in the same boat as me."
Kuenzang Lhophel Tobdhen is a student of Yangchenphug Higher Secondary School. He is from a class that has media studies as one of their subjects. While taking Media Studies has helped him learn read online stuffs critically, it is not always easy for Kuenzang to distinguish fake news from the real ones.
"I came across a thing about real dragon on Facebook once and I thought it was real. But later through research and discussions with my friends, I realised it was not true," said Kuenzang.
Tshetsho Wangdi, another Media Studies student said most of the time he is able to make out what is real and what is not, but there are times when he falls for the fake news because they are "pretty believable".
Kusum Latha Sharma, a media studies teacher with Yangchenphug Higher Secondary School, says her students are fairly better at analyzing media content compared to other students.
While the authenticity and reliability of online content has always been a concern, the rise of fake news has added to the problem. The coming of social media, particularly Facebook and Twitter, has made it easier for the fake news to reach millions across the world within seconds with many people now turning to social media as the primary source of news. But not everyone is aware that everything that appears on social media is not always accurate.
Many see media literacy as a key solution to tackling the rise of fake news and other inaccurate online content. This is exactly what the Department of Information and Media has been doing. The Chief Information and Media Officer, Tshering Yangden, says the department has been conducting media literacy programmes in schools and institutions.
"One of our divisions has been traveling around the country creating awareness among school and college students on how to use media constructively, and critique and analyse the materials they read."
The department also conducts media literacy programmes for civil servants and media officers. Tshering Yangden added that they are planning to reach out to the communities in the next phase.