Bumthang residents plagued by road problems
Kipchu, Bumthang

Mar 31, 2017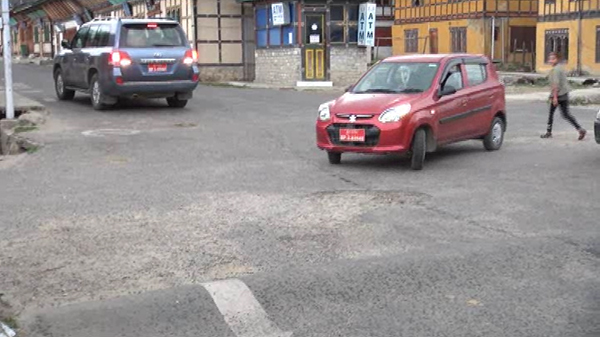 Residents in Bumthang Thromde are not happy with the condition of roads in the town. Most parts of the roads that connect the entire town are narrow and potholes are omnipresent along it.
For instance, the main street of Chamkhar town is filled with potholes. The condition is same near the vegetable market and bus terminal. Motorists vent out their displeasure for having to drive uneasily along the pothole driven roads which are also narrow for two vehicles to ply at the same time.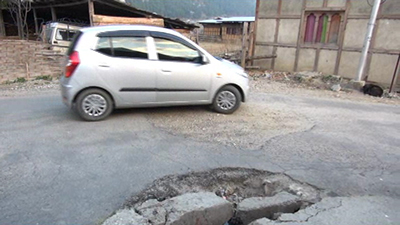 "It's troublesome for the drivers because our cars get struck in the potholes. We cannot even easily give way to oncoming cars due to the narrow road. I think the road has to be much better given the fact that we are living in a town. The situation worsens with the onset of rainy season," said a resident in Chamkhar, Namgay.
On the outskirts of Bumthang Thromde, the state of the roads is even worse. Locals said it would be a nightmarish experience for tourists and other foreign delegates who often visit Bumthang.
"It is a problem as you can see how bad the road is. I have never seen any sort of maintenance works done to fix the road though lots of people use this road and it is under the town area. I use the road frequently and this is how it remains all the time," added another resident in Bumthang, Tshering Dorji.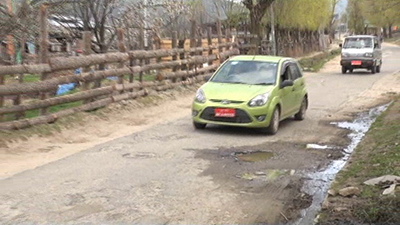 Bumthang's municipal office said the marshy land underneath the damaged portions of the road in the Chamkhar town area is aggravating the quality of other roads.
However, the office said they were assigned to look after the entire roads in Bumthang town in January, this year. Earlier, they only look after the Chamkhar town's road. Others were taken care by the Department of Roads.
"Though the road was handed over to us, we didn't receive any budget for its maintenance. So, we couldn't start any maintenance work. For the time being, the Department of Roads take care of the road themselves," said the Bumthang Dzongkhag's Engineer, Yeshey Dorji.
The Department of Roads' Jakar Sub-Division Office said roads were resurfaced twice in June and November, last year.
The Executive Engineer further said heavy traffic and developmental activities are hampering their restoration works.  But he pointed out that they have plans to resurface the roads before the end of the current financial year.