Bhutan and Finland meet to explore trade
Samten Dolkar, Thimphu

Mar 31, 2017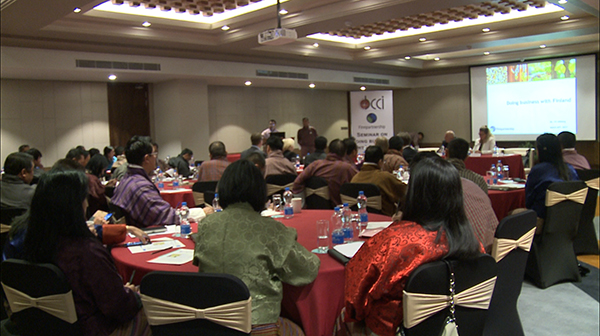 To identify potential areas to develop trade relations between Bhutan and Finland, commerce chambers of both the parties met in the capital, yesterday.
Despite having diplomatic relations between the two countries for over three decades, nothing substantial was achieved in areas of trade.
Bhutan imported goods worth about € 40,000 from Finland, last year, but it was otherwise in terms of export.
During the trade meeting, the two countries discussed about exploring trade opportunities in areas of tourism, hydropower, and textiles among others. Finland's Ambassador to Bhutan, Rauli Suikkanen highlighted that education could be one of the sectors for collaboration between the two states.
However, the Ambassador asserted that there are innumerable other potential areas for trading between the two countries.
The Bhutan Chamber of Commerce and Industry (BCCI) said the event will provide local exporters with a platform for entrepreneurship development and exploring markets for their products.
"We are trying to tie up with Finland to see possibilities of having increase in our export to other countries, not only limited to Finland but other European countries," told the Secretary General of BCCI, Phub Tshering to BBS.
Some of the entrepreneurs, congregated at the meeting said they have come to see if their businesses could be expanded in Finland.
"Since I have ventured into real estate, we are looking at possible investors coming in from Finland and to see what kind of venture we could actually work out," said an Entrepreneur, Paljor Gyabak.
Such business congregation was hosted by BCCI in collaboration with Finnpartnership, a Finnish government financed business promotion instrument.