Queen Mother addresses students on social, health issues
Sonam Penjor, Phuentshogling

Mar 29, 2017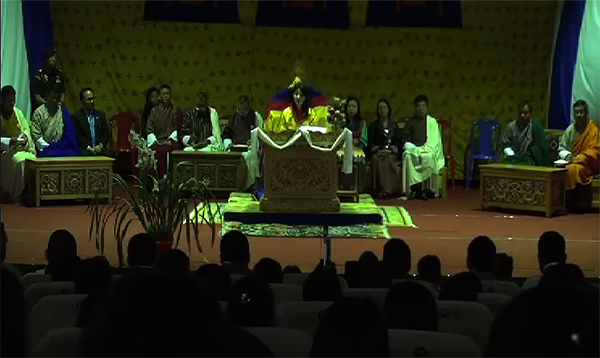 Her Majesty The Queen Mother Sangay Choden Wangchuck addressed the faculties and students of Gaeddu College of Business Studies on social and reproductive health issues, today.
Over 500 students from Gaeddu College and nearby schools attended the talk.
Addressing the students, Her Majesty said, "Statistics show that youth today are at increasing risks of physical and substance abuse, crime and violence and wide range of health issues. HIV AIDS and reproductive health are the most significant among them. Most unfortunately, we are also increasingly witnessing an unhealthy trend in the form of suicide."
Her Majesty also granted Nu 50,000 to the college for healthy living, safe environment and welfare of the students and faculties.
The college and the schools also received books dedicated to His Majesty The Fourth King.
Her Majesty also encouraged students to open up in expressing their social and health issues.
Yesterday, Her Majesty graced the Salang Tendrel of Gawailing Happy Home in Toribari under Samphelling Gewog, Chhukha.
Gawailing Happy Home will serve as a centre for the six southern dzongkhags. Once complete, it will provide a holistic environment of physical and psychological safety for individuals and families.
It will facilitate services such as counselling, legal aid, emergency medical aid, meditation practices, and education and life skill trainings.
Her Majesty also met with the students and staff of College of Science and Technology and granted Nu 50000. Her Majesty also gifted books written by local authors on Bhutan.
Her Majesty completed the 10-day high level advocacy tour in Samtse and Chhukha Dzongkhags.