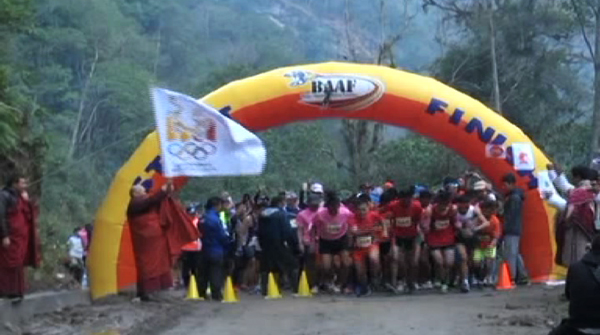 Sangay Wangchuk, 32, from Royal Bhutan Army won the Bhutan International Marathon for the fourth consecutive year.
The 42.2 kilometres run yesterday flagged off from Sirigang in Punakha and 21.1 kilometres from Botokha with finishing point at Punakha Dzong.
Participants of both the categories raced through Punakha suspension bridge via Khuruthang.
Sangay Wangchuk came first in the full marathon men's open category though he could not break his old record.
In full marathon women's open category Chimi Dema came first.
Yashiyuka Hara from Japan won the half marathon in men's open category while Goma Pradhan from Bhutan won in women's category.
Most of the top positions were taken by Bhutanese followed by participants from Japan.
This year, 490 participants from across the world took part in the competition organized annually by Bhutan Olympic Committee.