Zhemgang youth cooperative group showcase their products
Choni Dema, Thimphu

Feb 25, 2017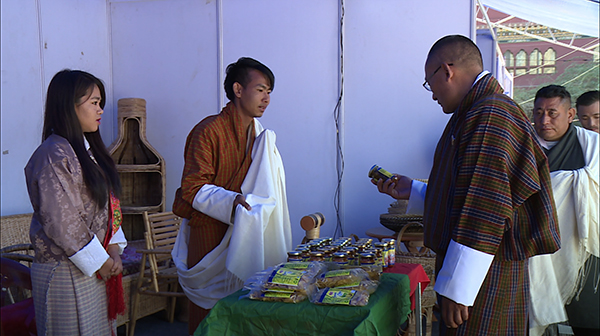 The members of the Khenrig Namsum Cooperative Group are in Thimphu to showcase their food products. Ranging from banana chips to bamboo shoot pickle, the locally made food products are at display at an exhibition underway at the clock tower square in Thimphu.
The Khenrig Namsum Cooperative Group came into being two and a half years ago. It has 16 members who are all out of school youths. The group was formed mainly to promote and market local products from Kherig Namsum.
One of the members, Leki Dorji, said the group is proving to be successful. "Things are going quite well. We earn enough to repay the loan we took to start the group. What ever is left after the loan repayment is shared among the members. Its not a lot of money but helpful nonetheless."
Besides promoting local products, the members say the formation of the group has helped provide employment opportunities to out of school youths.  While the group is doing well, the members say lack of skills is one of the main challenges facing the group. Financial constraint is another problem.
"Its something new for us. We don't have any training in the field. I think our packaging skills can improve a lot but for that we need money, which is hard to come by," said Leki Dorji.
The exhibition such as the one they are taking part in currently is a great opportunity for them to gain spotlight and promote their products. The exhibition is supported and coordinated by the Rural Enterprise Development Cooperation Limited and the Cottage and Small Industry Financing Department (CSIFD) of the Bhutan Development Bank.