Radhi rice hits Thimphu market
Pema Tshewang, Thimphu

Feb 22, 2017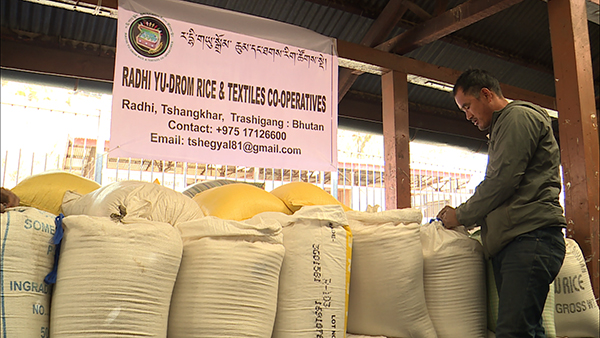 A group of farmers from Tsenkhar under Radhi Gewog in Trashigang are in Thimphu to sell their rice produce for the first time. The initiative is a result of Radhi Yu-Drom Rice and Textiles Co-operatives.
The group was formed in November last year to market their produce and earn more. The group has brought over 5,000 kilograms of rice locally known as sorbhang and sungsung.
The group's Chairman, Tshering Gyeltshen, said the farmers go all the way to Trashigang to sell just 30 to 40 kilograms of rice. They pay Nu 200 in transportation charge. They also have to buy food, which leaves them with not much profit.
"I started the Radhi Yu-Drom Rice and Textiles Co-operatives to help make things easier and profitable for the farmers."
The rice is sold at a maximum of Nu 90 per kilogram.
The group will also supply the buray, a local textile in the market as per the demand.
The dzongkhag agriculture sector in Trashigang is bearing the transportation cost. A private individual from Germany helped to set up the cooperatives.