Bhutan becoming popular with Lhadak pilgrims
Sonam Penjor, Phuentsholing

Feb 21, 2017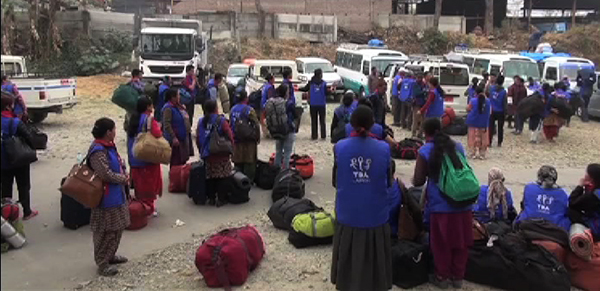 Bhutan is becoming a popular pilgrim site for the people of Ladhak in India.
Quite a  number of Buddhist pilgrims from Ladhak in India have been visiting the country in the recent years.
They usually visit the country in winter. This time, Bhutan has already seen over a thousand of them.Most of them come to the country to visit the holy sites in Paro, Thimphu and Punakha.
A pilgrim,  Rinchen Wacher is excited to be in the country. " We have heard a lot  about the many religious sites in the country. The moment we entered Bhutan, we felt so happy. Everyone back home are curious about Bhutan and wants to visit."
The pilgrims from Ladhaks also seem to be quite blown away by the country's cleanliness and pristine environment.
"The moment we set our foot in Phuentsholing, we couldn't help notice how clean the town is. The roads are better. I think there are many things we can learn from Bhutan," added Rinchen Wacher.
There are a number of tour agents who bring in visitors from Ladhak into the country. Some organize their trips through Young Drukpa Association, a socially active group in Ladhak, founded by the Gyalwang Drukpa Foundation.
The association aims to bring in more visitors from Ladhak next year.