Students singing national anthem in track suits not ok: Pema Gatshel DT
Thinley Dorji, Pema Gatshel

Feb 20, 2017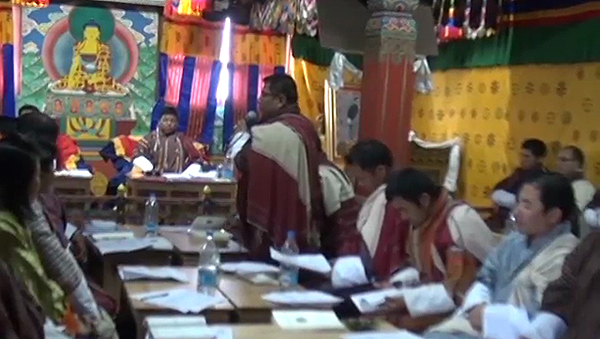 Many schools across the country require students to come to school in track suits on certain days. It turns out not everyone is a fan of it. Certainly, not the Dzongkhag Tshogdu members of Pema Gatshel who are seeking to change this.
They think students going to school in track suits is culturally inappropriate. They have issues particularly with students singing national anthem in track suits.
Expressing reservations about it at the Dzongkhag Tshogdu, the members said they are concerned the trend might affect promotion of national dress in the future. According to Zobel Gup, Pema Dorji, students being around the national flag in track suits is not very respectful.
"If the issue is not tackled from the beginning, we are afraid it might hinder efforts to promote our dress and culture," said Khar Mangmi Najay Dorji.
The Dzongkhag Tshogdu members of Pema Gatshel are also not very fond of government workers coming to offices in fieldwork dress for the same reason.
Chimoong Gup Yeshi Wangdi said the fieldwork dresses are meant to be worn when they are on field duty. "But some come in fieldwork dress to the Gewog offices even when they are not on duty."
The Dzongkhag Cultural Officer, Norbu Tenzin informed the local leaders that the Department of Culture has drafted a cultural heritage bill. He said the bill, which will be deliberated in the upcoming parliament session, addresses their concerns.
Keen to see the discussion reach the parliament, the DT members decided to include the issue in the gewog's agenda for discussion in the parliament.