A major facelift for Changlimithang National Stadium
Sonam Choden, Thimphu

Feb 19, 2017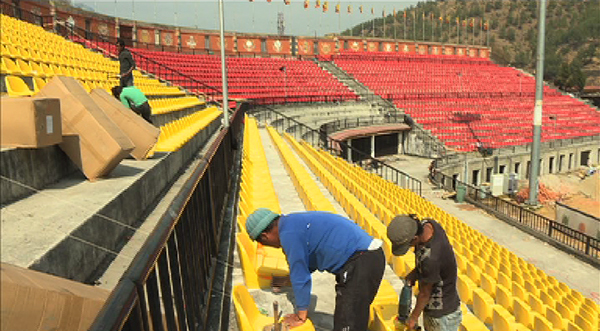 A major renovation is being carried out for the Changlimithang National Stadium, in the capital.
The maintenance works are carried out for the first time since its construction. The stadium's gallery was constructed in 2008 and the ground in 2012.
Plastic chairs are being installed on the gallery of the stadium, as part of the renovation. Without any chairs, spectators currently sit on the cemented gallery to witness events.
And most of the stadium's facilities are currently underutilized.
"There is lot of water seepage in the stadium and has deteriorated the condition of the player's room as well as rooms that are currently inside the stadium" said Kinley Tshering, the Project Manager of the Bhutan Olympic Committee.
He said "be it toilet or rooms" they are taking care of all the amenities that is there in the stadium.
Kinley Tshering also said they are going to include shower facilities and build separate toilets for the football teams.
"We will even have anti-doping and the medical rooms inside the stadium itself."
About 85% of the renovation works has been completed so far. By April end this year, the stadium will be overhauled into a new look.
The renovation is expected to cost about Nu. 35 M. Government of India is providing the fund.