Trashi Yangtse farmers capitalize on chilli import ban
Tshering Zam, Trashi Yangtse

Feb 19, 2017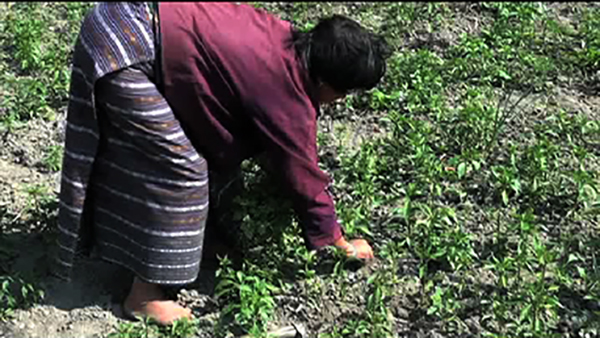 Farmers in Trashi Yangtse are expecting to do a brisk chilli business this year with the ban on import of chilli still in place. Bhutan Agriculture and Food Regulatory Authority imposed the ban after finding high residue of pesticide in the imported chillies.
Farmers in Yalang Gewog are already nurturing the chilli plants, when farmers in other parts of the country are yet to sow the seed.
Farmers like 54-year-old Norbu Zangmo from Wangringmo village under Yalang Gewog, work every day, expecting a good harvest this season. Norbu Zangmo planted more chilli than the other villagers this year, utilizing every empty space.
"Because of the ban on the import of chilli, I am expecting a good business this year". She added that the ban has motivated farmers like her to work harder.
"Since importing of chilli is banned, we are cultivating chilli for self consumption as well as for sale", said another farmer Rinzin Dema. She said they have even invested on manure to boost their chilli production.
Every year farmers in Wangringmo earn a minimum of Nu 50,000 through chilli business.
Although confronted with several issues like human wildlife conflict, shortage of water and lack of proper market to sell their produce, farmers are expecting to earn more this year.