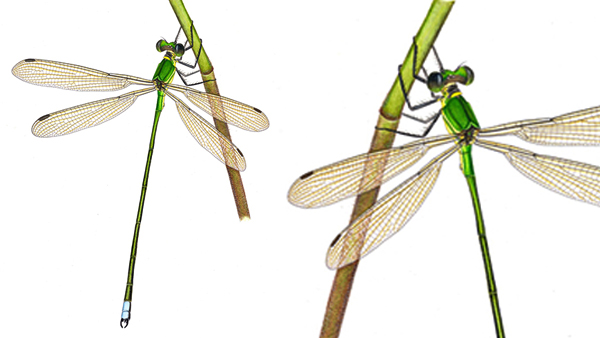 A new species of dragonfly have been named after His Royal Highness The Gyalsey, Jigme Namgyel Wangchuck to mark the first birth anniversary of His Royal Highness.
Ministry of Agriculture and Forests have named the dragonfly-Gyalsey Emerald Spreadwing.
The dragonfly is a newly found species discovered during a joint Bhutanese-Dutch expedition in Trongsa Dzongkhag in 2015. The species was undocumented earlier.
The emerald refers to its bright green colour while spreadwing refers to its habit of resting with the wings outspread.
According to a news release from the Agriculture and Forests Ministry, "a new species of dragonfly have been named in honor of the Gyalsey, Jigme Namgyel Wangchuck as a symbol of appreciation and gratitude for the extraordinary leadership of Bhutan in biodiversity and environmental conservation"
The young stages of dragonflies live in the water and are dependent on good water quality.
They are often called guardians of watersheds. The new species are found only in the mountains of Asia.
Out of more than 150 estimated species, 113 species of dragonflies are confirmed to be found in Bhutan.
The discovery of Gyalsey Emerald Spreadwing was the part of the project for "establishment of a knowledge base for invertebrates in Bhutan and the institutional and human capacities" which was funded by Bhutan Trust Fund for Environment and Conservation.
The project is spearheaded and coordinated by the National Biodiversity Centre in collaboration with various institutions.