100 penalised for illegal dumping of waste
Tshering Dema, Thimphu

Dec 28, 2016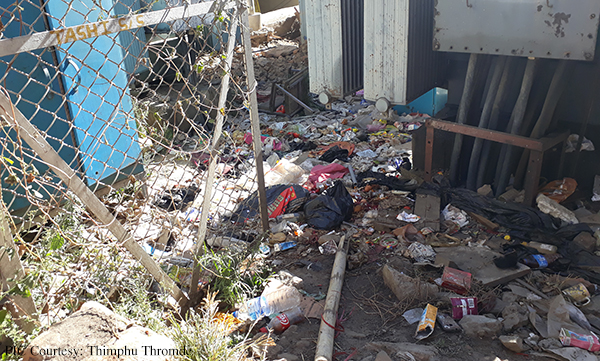 Thimphu Thromde penalised about a 100 individuals for violating the Waste Prevention and Management Regulation, 2012, this month.
A fine of Nu 60,000 was collected for various types of waste related offences.
The fines were imposed for illegal dumping, open burning of waste, and littering in the public area, among others.
Thimphu Thromde with its inspectors monitors the city on a daily basis. They have more than 10 inspectors.
"Apart from our inspectors, we now have about 60 community volunteers," said Thimphu Thrompon, Kinlay Dorjee.
He said they will help create awareness on waste management.
"If they still continue to offend, then the community volunteers will inform us and we will penalize accordingly."
Thimphu Thrompon said they plan to have around 100 community volunteers by next year.
Kinlay Dorjee also said it has become easier for the municipality to deal with the offenders after the recent nationwide cleaning campaign.
The municipality is also monitoring through CCTVs.
"CCTVs have been installed through safe city project and we will use those to track the offenders."
He said apart from penalising the offenders; they will also broadcast their pictures on television.
"We are planning to do so thinking that people will be more cautious."
The offenders will be levied fines ranging from Nu 100-20,000 depending on the severity of the offences.
Thimphu City produces around 19 truckloads of waste, every day.