Keeping Thimphu city clean?
Kipchu & Sangay Chezom, Thimphu

Dec 13, 2016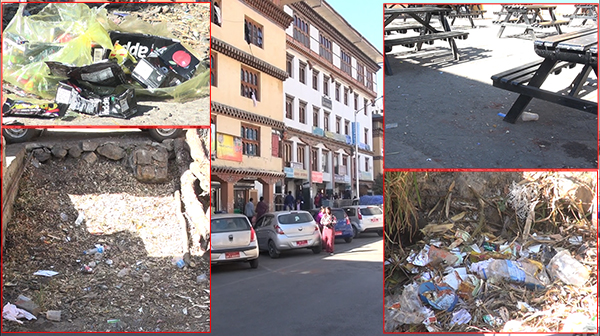 It has been just a couple of days since the Nationwide Cleaning Campaign and already trash is beginning to appear in Thimphu city.
Many say maintaining the city is a challenge with majority of the residents not conscious about proper waste disposal.
Downtown Thimphu is already littered with plastic and paper wrappers. The drain that runs through the middle of the town is clogging again.
"I do not know why people dump trash outside the bins. They could be thinking there are cleaners to clean," said a Gardener of Memorial Chorten, Kinley Namgay.
A Tour Guide, Chencho Wangdi said he sees people throwing plastic wrappers and empty bottles from their cars. "I think the government must strictly monitor this."
A Thimphu Resident, Jambay said tourists take care of their own waste even when they are travelling.
He said Bhutanese are not as educated as the tourists and seem less aware of the impact of littering.
Thimphu Thromde's Executive Secretary, Passang said they are imposing penalty on those who are found dumping trash in bulk.
He also said they are creating awareness on the ills of littering and at the same time asking people to clean their vicinity, every month.