4-D wood carving stands out at an exhibition
Kipchu, Thimphu

Nov 25, 2016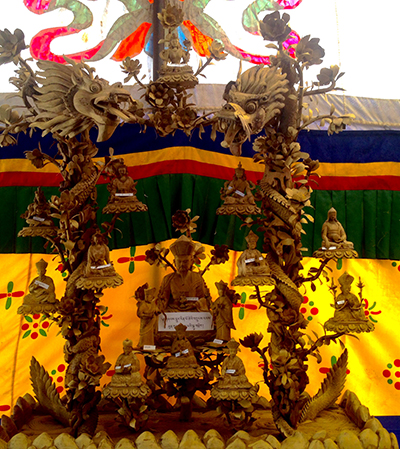 The Zorig Exhibition held at the Zorig Chusum Institute in Thimphu on Wednesday saw some fine displays of art but a Four-Dimensional Zhabdrung Phuensum Tshogpa's wood carving was the standout piece.
Besides its eye-catching edifice, this is the very first time the institute attempted to produce such a work of art.
The four-foot tall wood carving took over five months of hard work of three students and their instructor.
They did it under the guidance of two professional wood carvers from Nepal. The statues and the wooden flower petals are individually carved and fitted together with the help of glue.
The two glorious dragons standing face-to-face were carved out of individual wood pieces.
What's more significant about the sculpture is that it is the first of its kind which has ever been made in Bhutan in over four centuries.
According to the sculptors, the tradition of 4-D wood carving declined with the emergence of bronze and mud statues.
"It's like we revived one of the long lost jewel of the country. We feel that we have now caught hold of this art that can be passed on to the next generation of sculptors. We are really proud and happy of this achievement," said 4-D Wood Carver, Dechen Tshewang of Zorig Chusum.
Another carver, Nima Gyeltshen said this was a completely new experience for them. "We haven't done anything like this before. So, we want to now keep this legacy alive in the future as well."
They will be remembered for producing the impressive artwork. They say there is no stopping them now.