MoWHS refunds urban tax of four villages
Sonam Penjor, Trongsa

Sep 12, 2016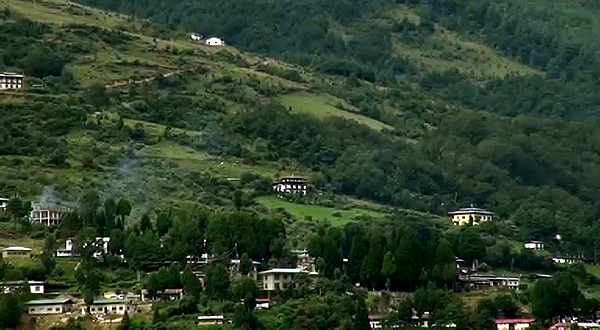 The Ministry of Works and Human Settlement (MoWHS) refunded the urban tax paid by four villages, falling under Thromde area in Trongsa. Though these villages fall under the town area, they are not liable to pay the urban tax, which was collected from them.
The Secretary of Works and Human Settlement Ministry handed over the cheque to Trongsa Dzongda in presence of the people.
Over 30 people from four villages paid the urban tax
"In the parliament it was discussed that the rural land that falls under the town does not have to pay the urban tax but we have already paid the tax by then. So around 35 of us organized a meeting and signed a letter and gave it to the Gup. The gup then forwarded the letter to the Dzongkhag immediately," said a villager from Trongsa, Sangla.
According to the works and human settlement ministry, areas of declared Thromdes, which are not yet provided with basic infrastructure facilities, will have to pay 50 percent of the residential tax.
Rural tax rate shall apply to those areas that fall within the Thromde area where no constructions are allowed and basic services provided.
After realizing the mistake, the Dzongkhag administration and the ministry started working on the issue.
"It is not possible to withdraw the money once it is deposited in the account. We therefore manage the money in order to refund it today," said Trongsa's Dzongdag, Sonam Rinchen.
"People must be thinking that after Kuensel and BBS covered the story, we are refunding them. But it is not true. Kuensel and BBS knew it much later and we have been work for the last two months to refund the money. And it is not easy to refund as have to follow many procedures"
The urban tax for an acre of land is Nu 18500 but the rural tax Nu 30 an acre.